Now in its fourth year, the Johnson Tiles design brief invites students to create a unique tile collection that encapsulates the complete design process, from market research to the presentation of final designs.
Despite the restrictions in place due to Covid-19, Amy and the team at Staffordshire University were still able to run the brief and collaborate with participating students using Microsoft Teams.
Amy comments: "As a graduate from this course, I understand the value of projects like this which provide students with a real taste of the design industry and a good bank of work for their portfolio. I feel honoured to have been able to return to Staffordshire University and showcase our creative tile industry to the students."
The Brief
Students were asked, 'What's missing in today's tile market?'. The brief called for them to produce a tile range that included three plain coordinating colour tiles and two décor tiles, all incorporating future trends and colours.
The 19 students who took part were given three weeks to design their collection, with the final presentation delivered virtually to the Johnson Tiles team.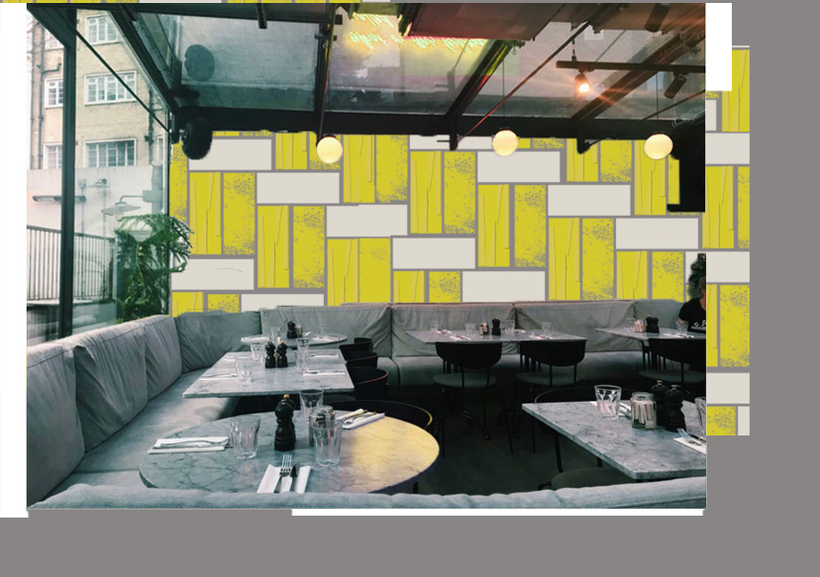 The winner: Megan Keay with Urban Serene
Aiming to create a tranquil commercial space, Megan's winning Urban Serene collection was inspired by urban typeface and combined joyful expression pastels and block colour trends. The range included three complementary décors and three plains that explored various tactile effects, including reactive print.
Amy said: "Our winner had a strong and consistent body of work, from the mood board stage, flowing all of the way through to final designs. I particularly loved the unique approach Megan took in combining typeface with striking block colours, resulting in an interesting and abstract take on her theme."
Explore more of Megan's work on Instagram - @megspatterns.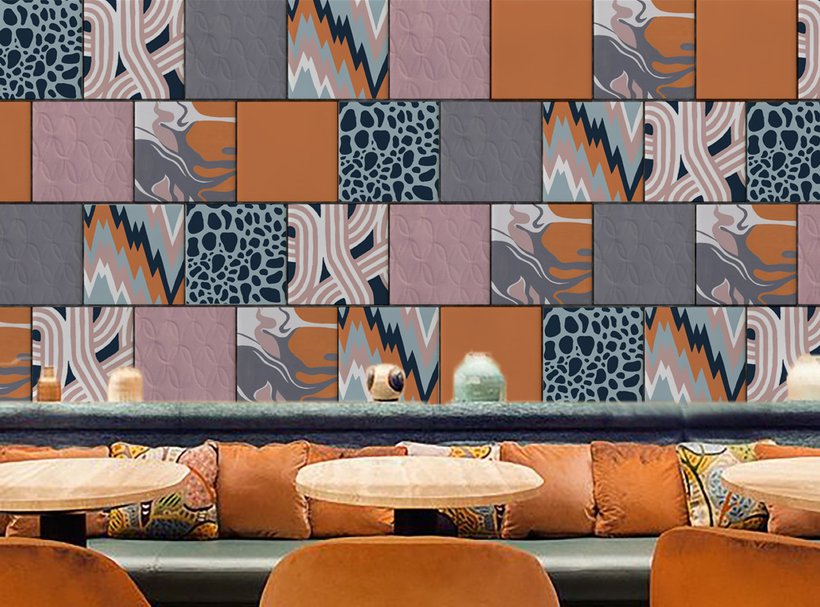 Runner up: Louisa Huntbach with Euphoric Patchwork
Retro patterns from the 60s and 70s mixed with the art deco trend inspired the euphoric patchwork of Louisa's collection. Designed for restaurants and bars, Louisa invoked a feeling of nostalgia across her four décor and three plain colour tile designs.
Amy said: "I was very impressed with Louisa's trend awareness, which is reflected throughout her work. The strong juxtaposition of patterns and innovative use of colour was very exciting to see."
Explore more of Louisa's work on Instagram - @louisahuntbach.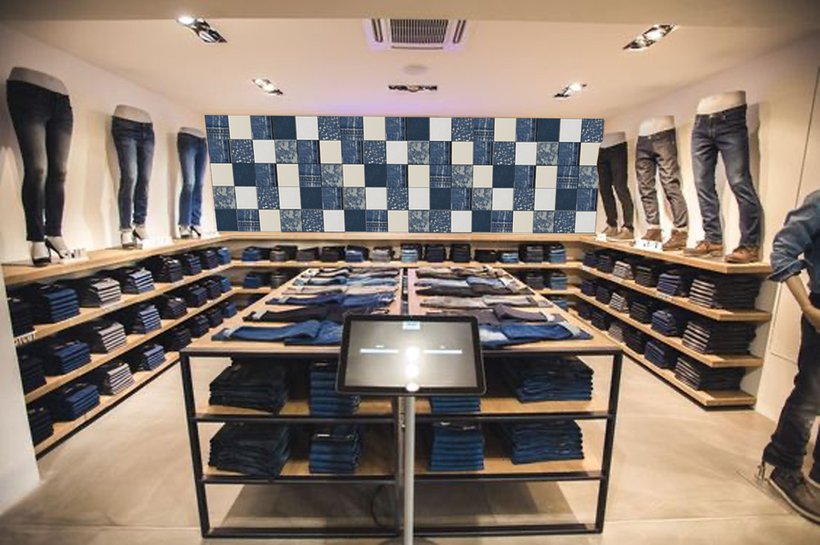 Runner up: Grace Finneren with Vintage Jeans
Influenced by denim patchwork trends, Grace's collection incorporated resourceful techniques to reuse and recycle, layering distressed bleach patterns inspired by traditional patchwork quilts with bolder, more contemporary marks. By including all of the classic features of a pair of jeans, Grace added extra depth and detail to the four distinct décors and matching plain colourways.
Amy said: "I was wowed by Grace's thought process and the overarching message of sustainability through the reuse of material. The unique subject theme translated extremely well to her commercial setting."
Explore more of Grace's work on Instagram - @gracefinneren.
A huge thank you to all of the students who took part and congratulations to our winner and runners-up. You can see more of the work from Staffordshire University's Surface Pattern Design students by following @surfpatstaffs on Instagram.