Design and Sample Services
DESIGN SERVICE
Our design and development team are driven by a passion to create. For us, inspiration is everywhere. We travel to the far corners of the world to seek out new ideas and materials, inspired by everything from ancient Middle Eastern architecture to the tones and colours of nature itself.
We also visit glaze and frit suppliers to discover new advances in glaze and print developments before they become mainstream. With our considerable expertise and knowledge, we transform what captures our imagination into truly unique tiles and products. Our design and product development continue to collaborate to produce prototypes underpinned by a broad skill base, with versatility in design styles from high trend product to commercial designs.
Let us share our discoveries with you. Our in-house design and development teams are here to offer expert advice on design schemes, layouts, and bespoke installations, so you can always find the right product to match your creative vision. This service is accompanied by free CAD and visualisation for all commercial projects, using the latest software, so you can see your ideas evolve.
Not sure where to start? Immerse yourself in our world. For an in-depth exploration, head to our award-winning Material Lab in Central London. Material Lab is the leading resource studio developed specifically to advise and inspire professionals and consumers on current interior tends, and the latest products and ideas, not just from Johnson Tiles but from our brand partners across the globe.
All designs created in house are Johnson Tiles copyright. For designs created using client's drawings, only the tile's design elements would create any design right for Johnson Tiles, not full copyright.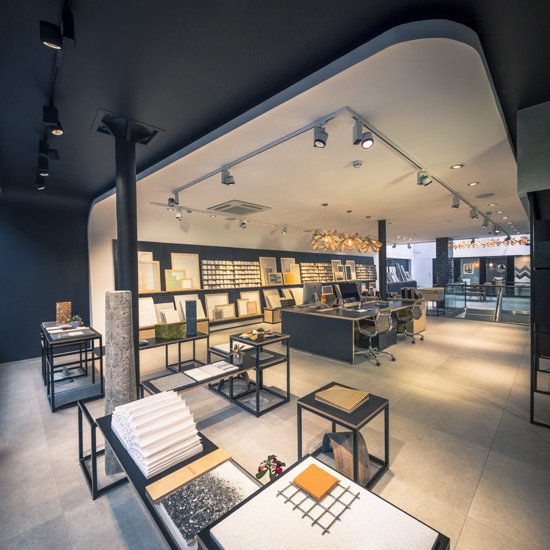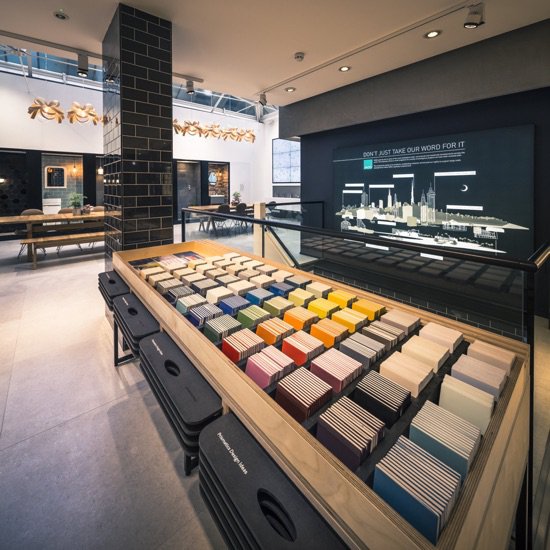 Sample service
Johnson Tiles have a wide-ranging set of sample wallets, hand boards and other support materials available to architects, designers, and specifiers. Most of our ranges are available as 10cm x 10cm samples for use on mood boards or colour/texture assessment. Full size samples are available but please get in touch with the office via the contact details below to arrange delivery.
Our literature includes all the information required for detailed specifications such as technical conformance charts and slip resistance values, in addition to comprehensive and detailed colour notation and Light Reflectance referencing.