The Colour Workshop with Laura Perryman
We recently hosted a colour essentials masterclass event at our London Design Studio, where colour expert and author Laura Perryman, led a group of interior designers and architects in a creative workshop. We also did a Q&A with Laura to discover how 'The Colour Bible' book came about and how it can be used when creating design schemes.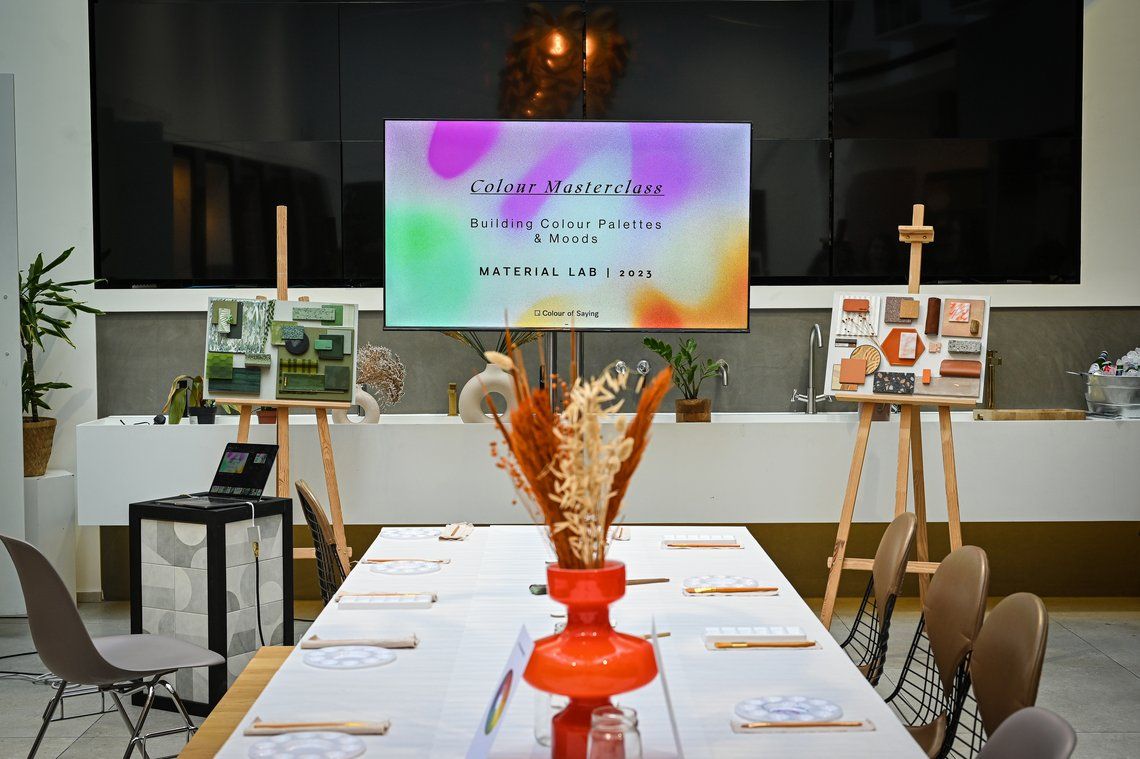 We were recently honoured to host a colour essentials masterclass workshop event at our London Design Studio, where author, CMF expert and colour consultant; Laura Perryman, led a group of interior designers and architects in a talk and creative workshop on the importance of colour!
Hosted by Material Lab in conjunction with partners VADO and Tektura, Laura conveyed insights from The Colour Bible book which is 100 colours in art and design. Working with physical colour qualities as well as hidden properties and benefits in various colours to unlock a different perspective on how we can use colour daily to enhance projects.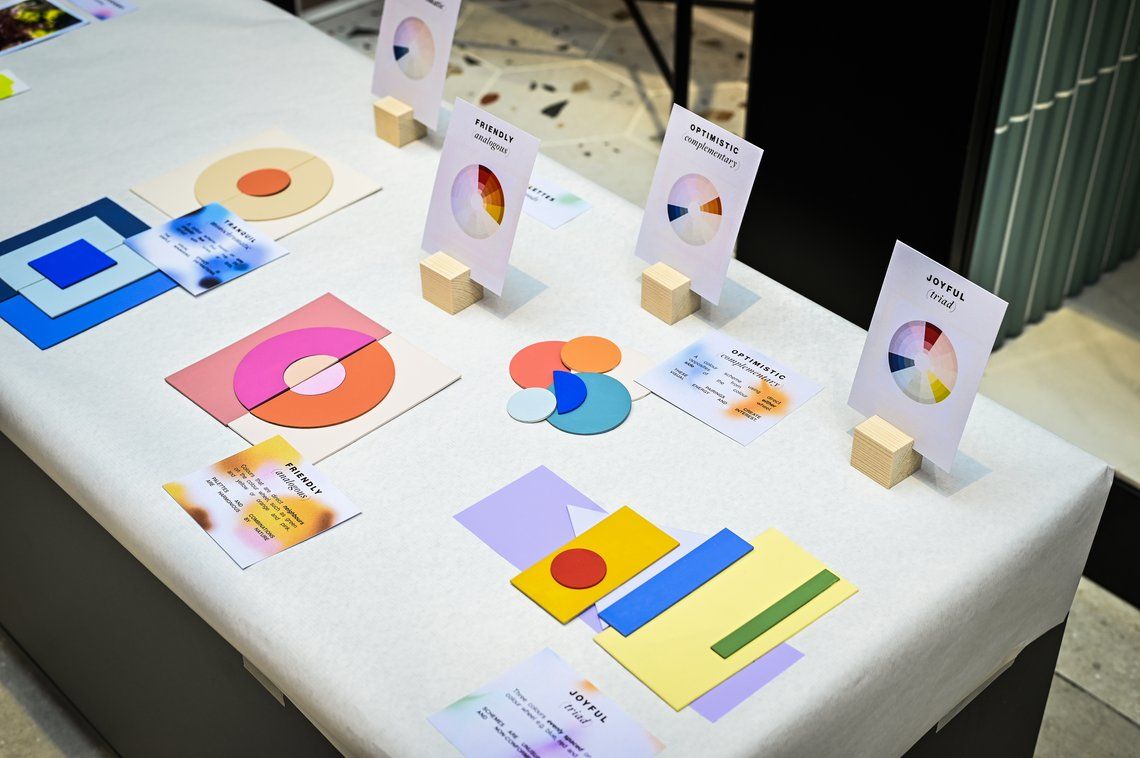 Colour Properties
Colour influences our mood, how we feel, perceive and interact with the world around us. Laura began the workshop briefly explaining the theory behind colour and covered some of the emotional properties' colours can possess, for example:
Cool Blues usually have natural, meditative or tranquil properties, they are also nurturing and can lower our heart rate.
Red/Corals radiate warmth and comfort, great as an approachable and mood enhancing tone.
Pink gives a more energising, stimulating and playful vibe.
We can therefore use colour to set the tone/agenda or mood of a project - colour makes us feel stuff!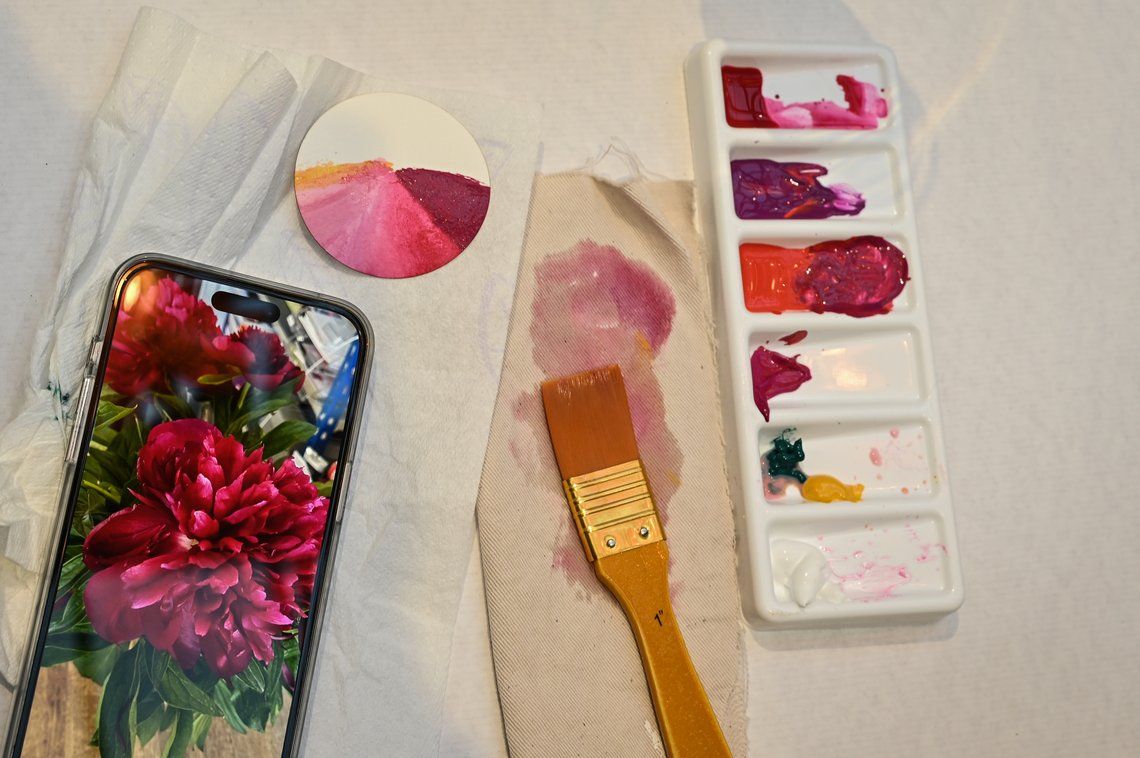 Painting & Observing Colour - Activity 1
For the first activity participants were asked to mix, create and observe the colours, hues and tones that inspired them using an image, object or excerpt from the book. This enabled attendees to begin experimenting with colour combinations and tones, individual and sensory connections with colour were encouraged using paint/ink.
Putting paint to paper allowed attendees to have more awareness of the feelings the colours evoked, and the power behind each shade.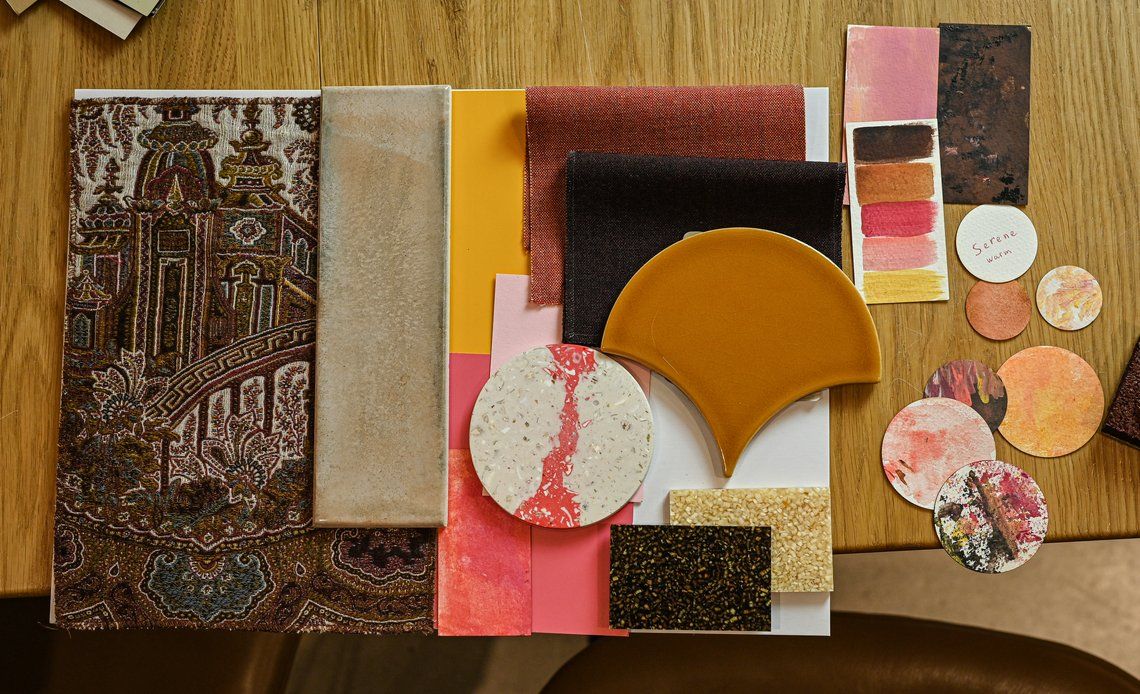 Building Palettes with Colour & Materials – Activity 2
Attendees added to their initial colour palettes by creating mood boards with the addition of other materials and textures including tile and wall covering samples.
Palettes were built with creative purpose, the addition of diverse materials allowed attendees to become more playful and imaginative, crafting a concept they could transfer to their next design scheme.
All mood boards were unique, and attendees were then able to take these home.
Q&A with Laura
1. How did you become such a colour expert?
I've always had a love for colour, so I studied textile design and learnt about how to make colour from scratch, then I went to work in the industry as a CMF (Colour, Material & Finish) designer. I took that love for colour into all the projects that I have worked on and made sure that colour is always a hero in those projects too. Learning about colour, what it's made from, the pigments, what its constructed of, as well as how you can apply it. Colour psychology/ colour theory is really a deep and meaningful topic, so I've always made sure it is the top priority of any design scheme I've done.
2. What inspired you to create 'The Colour Bible' book?
I was really inspired by the broad nature of colour, the fact that today we see colour embedded in everything in our daily lives; from what we wear, to how we use colours in our homes, to the fascinating insights in the way that colour is shaping technology. I wanted to make sure we brought colour into the 21st century, as well as embracing the histories and pigments that have shaped our world, but also making sure that we represent trends and future colours too.
3. How might the book come in handy for designers?
So there's parts of the book that are dedicated to the fundamental principles of colour, things like colour theory and colour psychology, but then each individual shade in the book, of the 100 colours covered, there is also a use case so its showing you how to take the colour inspiration, the narrative, the story and how to apply that to a scheme. That's probably one of the most useful things for designers, you can literally lift the colour into something you are working on right there and then on your desk, which I think is a very useful tool.
4. Why is colour so important in design?
Colour is really important in context, so it sets moods, that's why in design as creatives we can use colour to set different tones or different sentiments within the products or spaces. That's why it becomes an incredibly important tool in the design process, so it shouldn't be left till the last minute, as designers we should be using colour right at the start to set the agenda/mood of that intention or project.
5. How do you approach a new project/design scheme?
Good Question! I always make sure I know who is going to be using the product or space for instance, I think context is really important for colour, so understanding who the users are and what they are going to be doing on a day-to-day basis within the scheme. I also look for unique inspirations for colour, I'm always looking for different or unique colours, and the start points for those colours coming from inspirational or different reference points, so it could be a natural form, a particular piece of technology or a found item/object and drawing a scheme from that rather than just following trends. Obviously, trends are really important, but finding the right nuance or the right type of tone, whether that's something lighter, paler and more peaceful or something more vibrant and engaging is obviously going to set the mood for that scheme, and that's really where I try to refine for each individual context or brief.