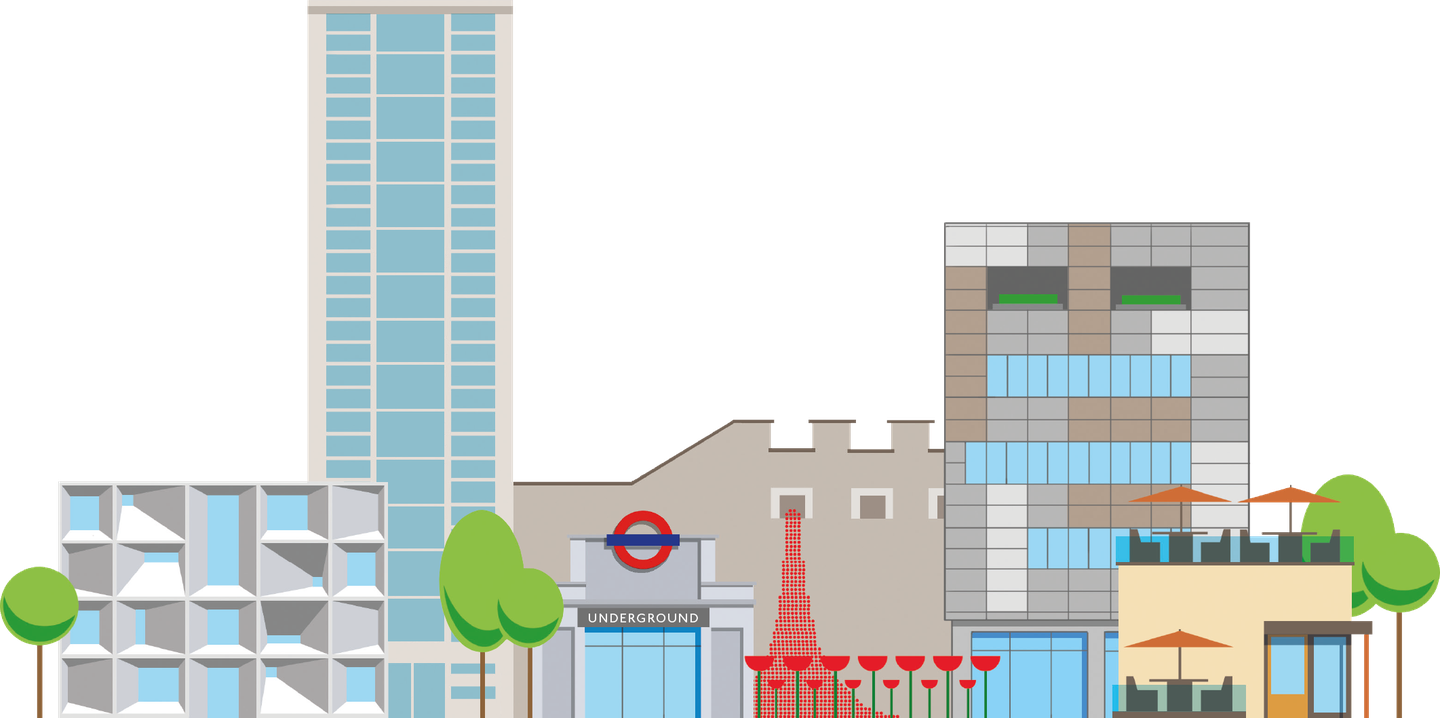 COMMERCIAL
Let's Work Together.
Here at Johnson Tiles, we understand that each and every commercial development is different. Our commercial product portfolio has been curated with these varying needs in mind, catering for all design styles and application types.
Commercial properties can span a vast array of projects from office installations to luxurious hotels. With this variety comes a multitude of individualised needs to suit bespoke designs and specific applications. With 120 years' experience of supplying tiles to commercial projects around the globe, we are uniquely placed to meet your requirements with our carefully curated product portfolio.
Uniting our beautifully designed ceramic tiles, manufactured right here in the UK, with our complementary sourced collections, we have a leading selection of tiles for your next commercial project. Supported by our well-established, comprehensive sustainability credentials, our products score highly on performance without sacrificing aesthetic. No matter your specification, we have the products to fit.
Here at Johnson Tiles, we don't just design and manufacture amazing products, we deliver on excellent services too. As part of a comprehensive suite of services, we offer free CAD for all contract tiling applications. Our in-house team uses the latest digital software to create bespoke fixing and installation layouts. A free Bill of Quantity service is also offered in conjunction with the CAD service. The quantities can be extracted from drawings sent to us, or from drawings created in house. Our Technical Support team is also on-hand to help – we can provide detailed reports in the M40 format. This gives a comprehensive outline of product suitability, adhesive and grout selection, background suitability and preparation guidance.
We understand that to specify for a project, a tangible, tactile experience of product is key. That's why we provide a next-day sample delivery service completely free of charge. Check out a selection of our products in 100x100mm chips or full-size pieces to make fully informed materials choices. We also offer various free of charge sample tile support materials, including sample wallets, to showcase a specific product selection clearly and easily, customised across collections and suitability. In conjunction with this, our Material Lab design resource studio in London provides a hub for new materials and inspirations. Immerse yourself in a wealth of design-led surfaces, texture, and materials suitable for the built environment and commercial sector.
Once products have been specific, our extensive distribution network can deliver direct to site, creating even more flexibility. Our responsive logistics team can also arrange next day deliveries for any working day on those occasions where schedules are tight and a fast turn-around is essential. Plus, if you complete your project with Norcros Adhesive products, we'll support you with a 25-year guarantee on tiling and adhesives! 
We also present the opportunity to develop and enhance your skillset with our CPD suite Making It. Beautifully. Taking inspiration from the 'Living with Beauty' report by the Building Better, Building Beautiful commission in 2020, the suite explores the topic of beauty to understand how it can be examined, re-imagined and incorporated into the built environment to create spaces that foster a sense of wellbeing and community.
With our extensive list of ancillary services, you can be assured that Johnson Tiles is the right supplier for you.
PRODUCT INSPIRATION
Inspiration can be found anywhere. Our in-house Design and Development teams search the world to find new and inspiring materials and ideas. Driven by creative passion, influence is drawn from everywhere, from the colours and tones of nature to the details of world architecture. Our design experience and technical excellence transform this journey into unique tiles and products.
We're always happy to share our creativity with customers and clients in search of design inspiration, offering expert advice on design schemes, adding our experience to layouts and bespoke installations, or finding a product to match each individual creative vision.
Whatever the project, however large or small the budget and no matter how demanding the technical challenges, Johnson Tiles is perfectly placed to match your requirements.
Discover a curated collection of inspirational photography from all aspects of commercial use, including office interiors, retail spaces, high-traffic areas, and more. This is followed by a hand-picked selection of our product ranges, perfect for any and all commercial applications… Welcome to our world!
Product Choice
Our extensive portfolio offers an impressive selection of tiles, from architectural colour palettes and nature-inspired effects to more daring animal prints and stand-out shapes. With three product collections to choose from, our ranges suit everything from minimalistic aesthetics to maximalist luxury.
With plenty of scope for playfulness and creativity, our product range lends itself to commercial projects across the spectrum. Plus, our design-led approach means your tiling will always be on-trend.
Let's Work Together
We've been making beautifully designed, high-quality ceramic tiles for over 120 years, alongside a complementary sourced collections of porcelain floor and wall tiles. Throughout our extensive history we've continuously invested time, energy, and resources into excelling as market leaders.
Outstanding product design is only part of what makes us the right partner for every residential developer. We are dedicated to helping every one of our customers get the very best from our tiles, from carrying unrivalled levels of stock, to ensuring that we exceed client expectations every time. By providing high-quality hand boards and support materials, we enable your clients to easily visualise their final scheme.
We underpin this with our first-class nationwide distribution network and our award-winning technical support services, offering support across every aspect of tile usage and application. Let's work together.