With 2019 marking the festival's 10th anniversary, this year's programme was more jam-packed than ever before. Talks, exhibits and installations from both up-and-coming and established designers alike captivated attendees.
After scouring the show, here we share our pick of the top trends sure to inspire your next interiors project.
Geometric Patterns
A timeless classic, the real question is perhaps will the humble geometric pattern ever go out of fashion? From flooring to wallpaper and soft furnishings, repeated geometric shapes were once again seen everywhere. Maybe it's the soothing neatness of the geometric that helps maintain its popularity. Or perhaps it's that the shape can add detail to a commercial space without seeming overbearing.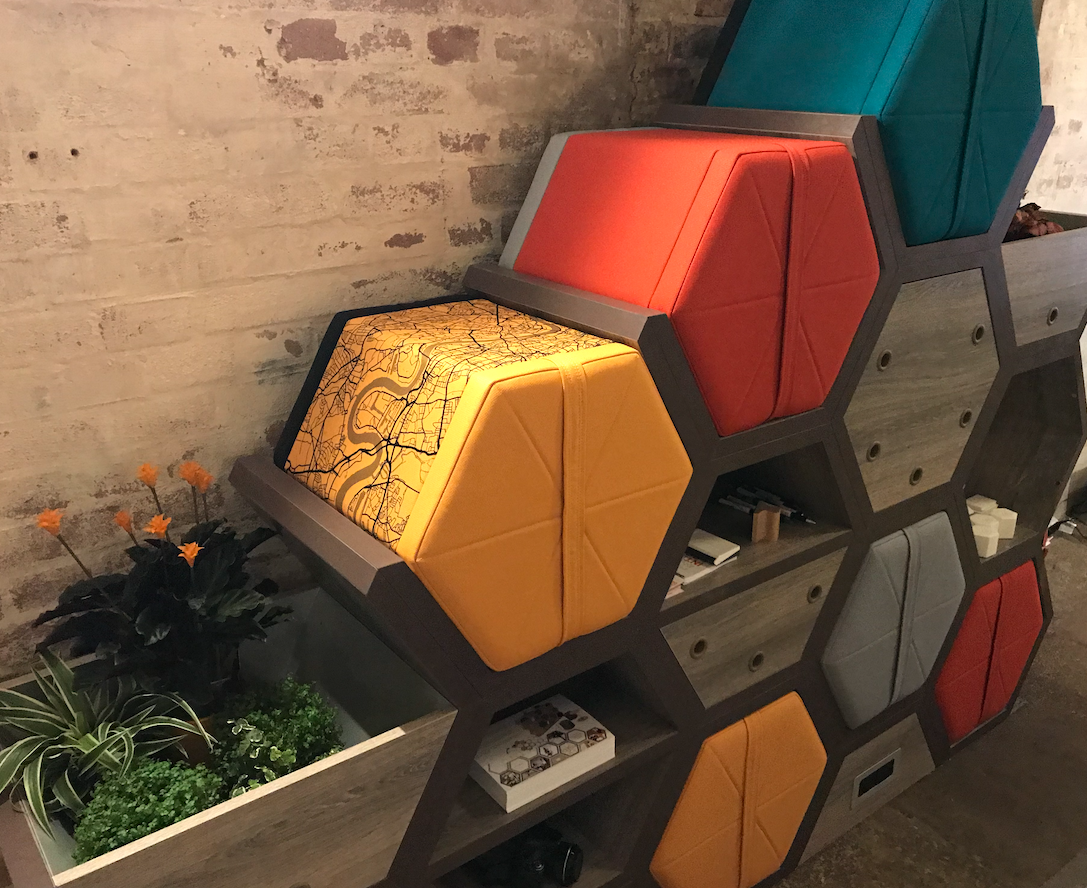 Intarc Design applied the trend to its eye-catching and engaging storage solution. Featuring a honeycomb-style structure with removable elements, clients can adapt the furniture to suit their individual requirements.
Taking a more decorative approach, a series of small-scale sculptures boasted bold colours and metallic sections, providing the perfect solution to incorporating the geometric trend without overpowering a space.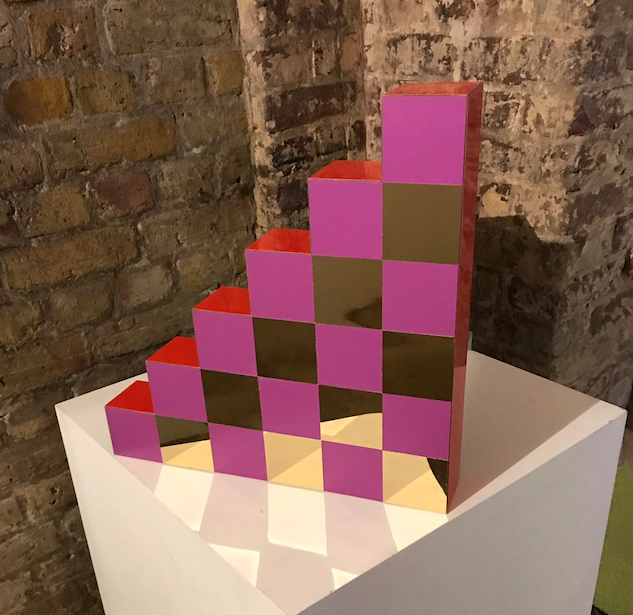 Muted Tones
'Understatement is underrated' was the key message from designers this year. Muted tones and natural shades underpinned many of the stands at Clerkenwell Design Week.
A neutral palette is often the go-to choice for commercial interiors, occasionally styled with a single pop of colour to add additional interest.
But what Clerkenwell has shown us more than anything else is that parred back should certainly not be confused with dull.
Take these decorative sculptures by Hermine Doublon, for example. Utilising a minimal colour scheme, the design is subtle yet beautiful.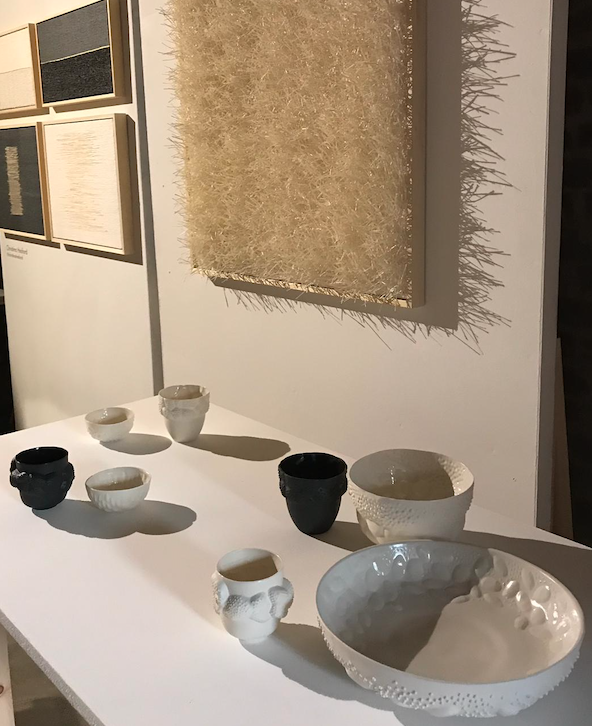 Pastel Shades
If you yearn for something a bit more colourful, don't fret. Pastel shades are another key trend we loved at Clerkenwell Design Week.
Favoured by commercial interior designers because they create a softer look while still drawing the eye, pastel colours from lilac and pink to lemon and mint green were a big hit across exhibitions in multiple disciplines.
At the Interface showroom, we spotted our Savoy range in Leaf decorating the bar area. Underpinning a soothing yet sophisticated ambience, the tiles demonstrate a fresh take on the current trend.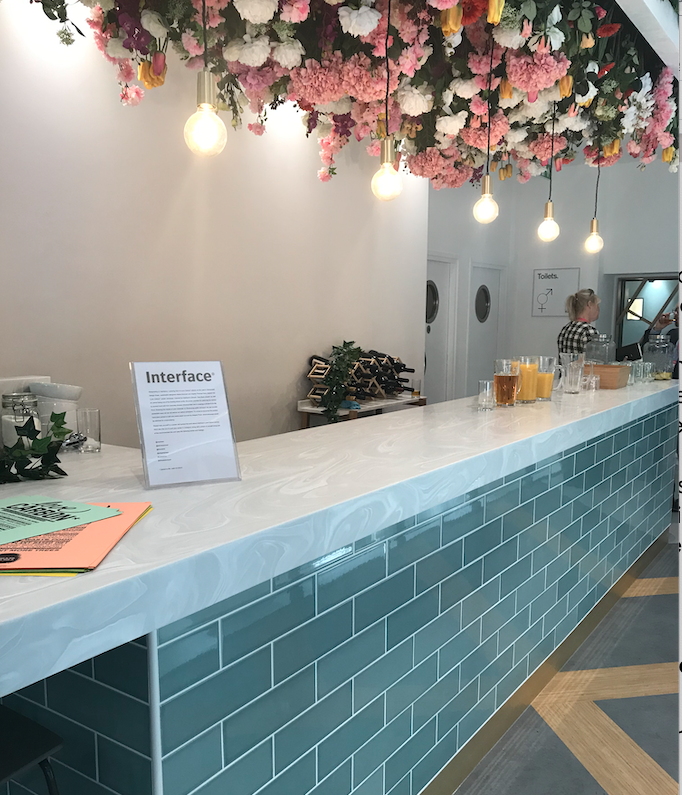 Recycled Materials
Sustainability is a prominant topic across all industries right now, so it is perhaps unsurprising that the use of recycled materials was a huge trend at this year's Clerkenwell Design Week.
Reborn plastics, wood and metal all featured prominently across exhibitions, as it seems businesses were keen to align themselves with positive environmental messaging.
Many brands are also pledging to commit to the 'cradle to cradle' model throughout the wider operations, which is great to see.
The BottleHouse™ installation by small & WSP Design Studio provided an eye-catching exhibit with an important message.
Using discarded, empty plastic bottles in a feat of impressive architectural engineering, the creative duo created a temporary structure that acts as a shelter for those that need it most.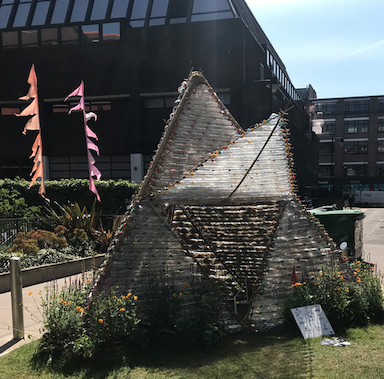 Personalised & Bespoke Elements
Beautiful craftsmanship is always on show at Clerkenwell Design Week, but this year bespoke finishes and customisable elements were a unanimous hit across all sectors.
Designers are scrapping the 'one size fits all' ethos of the past, recognising that every interior has different requirements and needs to cater to the individuals that spend time there.
Certainly, the trend amongst exhibiting businesses at CDW suggests that design is about to become more personal than ever before.
So, there you have it – our top trends from CDW 2019. Get in touch via our social media channels to let us know your favourite exhibits, and follow us on Instagram to discover more from our design team.