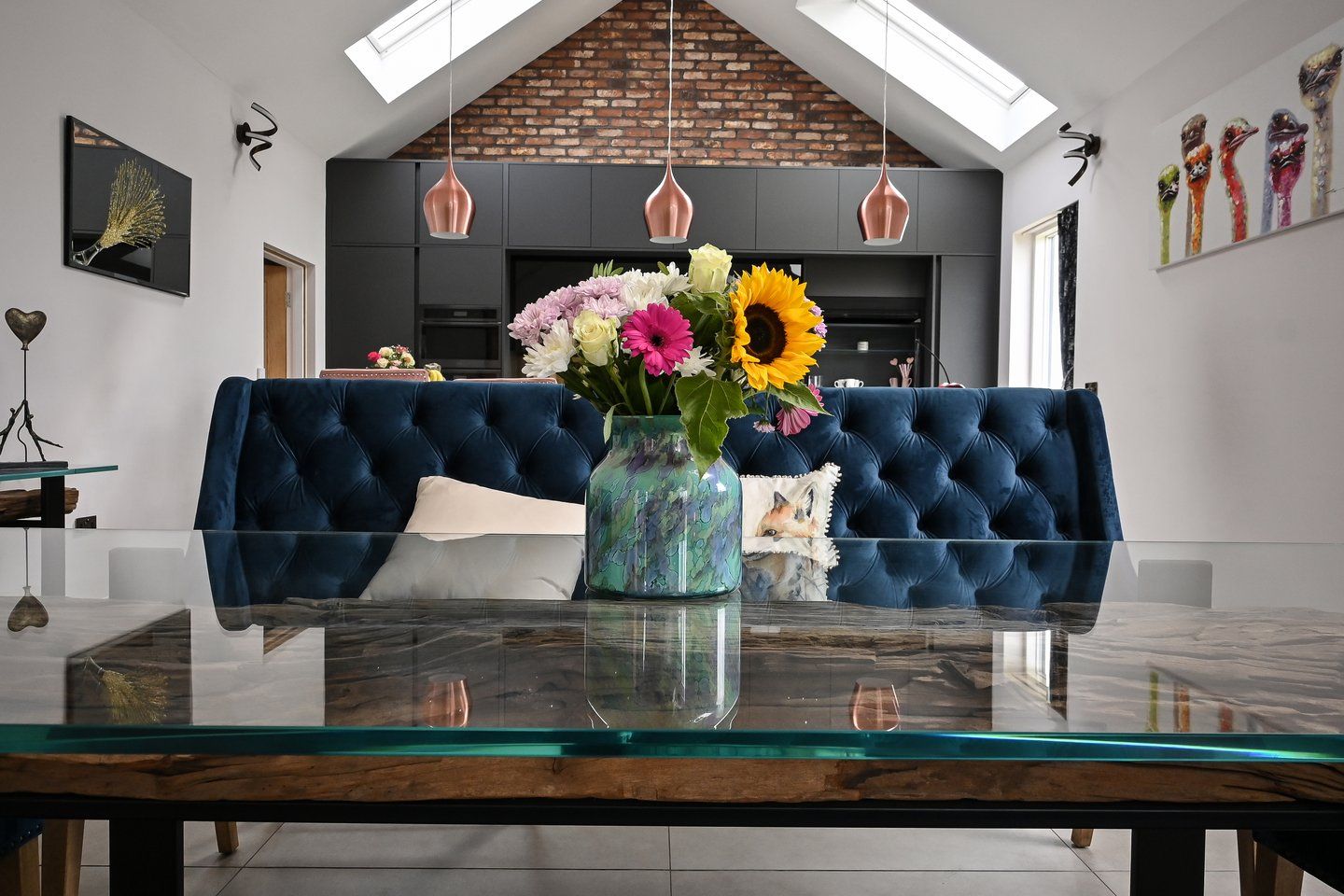 Fox Barn
Fox Barn
Bury, Greater Manchester
Meadow Croft is an impressive, converted barn with an on-site alpaca farm located in a rural area of Bury. The idea of the project was to create a 'forever home' which was both spacious and luxurious, whilst being an enjoyable place to be.
The muted colour of the District Ash Natural 900x900mm glazed porcelain floor tiles, laid seamlessly throughout the kitchen, diner and lounge areas, pair perfectly with the modern yet rustic aesthetic. The concrete effect tiles were balanced with the bold and contemporary furnishings to create a unique finish.
Complemented by the contrasting impact of the Luxx marble-effect glazed porcelain range, transforming the bathroom with a stunning hotel-like feel. The large format Crema Marble and Cheetah Décor colourways adorn the walls and floors, used in both Natural and Polished finishes in 1200x1200mm and 1200x600mm sizes. The rich, marble veining is also flawlessly complemented by the modern gold fixtures, adding to the opulent and chic look.
Tiling was completed by CAD Ceramics, Debbie from CAD and owner of the barn, advised the Luxx tiles were chosen due to their unique design; 'We logged onto the Johnson website and spotted the brand-new Cheetah tiles, and they were just what we were looking for! Johnson Tiles and Mark [Gilbert], always take good care of us and go out of their way to ensure they give the best possible service.'
The barn has been meticulously styled to create a timeless and fresh space that exudes luxury. The striking marble and animal themed prints add character and variation, while the concrete effect tiles provide a backdrop that elegantly balances the bolder features, paving the way for an ultra-modern finished look.