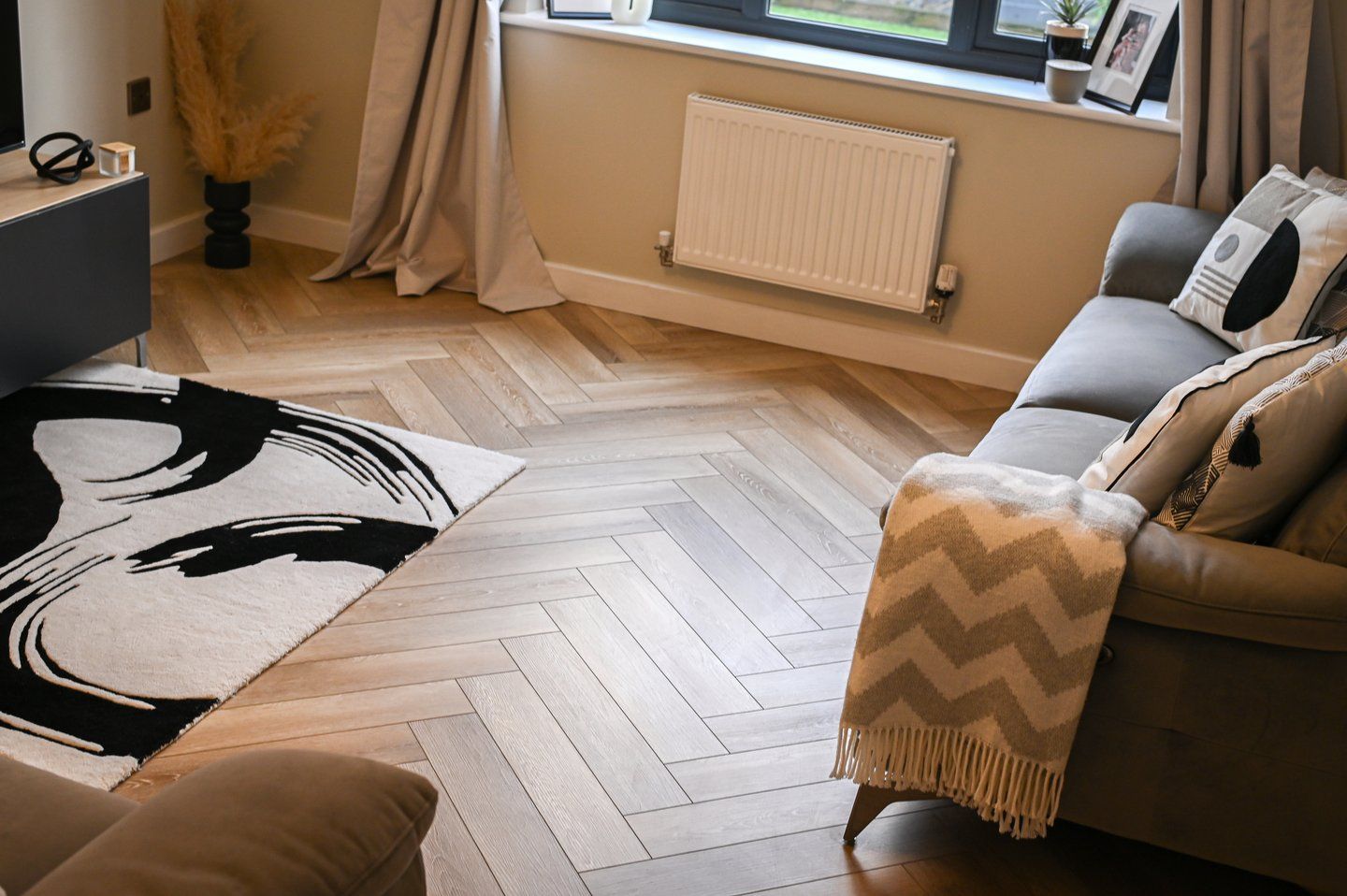 Essington Way
Essington Way
Stoke on Trent, Staffordshire
Using our new collection of wood-effect Rigid Luxury Vinyl Tiles, this residential installation exudes contemporary and welcoming vibes. The traditional Natural Oak colour was chosen in the 615x123x5mm Herringbone format, an emerging and popular trend used more and more often for its eye catching and appealing aesthetic. The RLVT was used on the floors in the hallway and living room areas of the property for a seamless and cohesive design look, allowing the rooms to feel more spacious and inviting.
With a ceramic bead coating and protective wear layer the RLVT provides greater resistance to any scratching and scuffing that may occur, perfect for busy day to day family life. Our RLVT collection also has a built-in underlay meaning it is not necessary to purchase this separately, the underlay provides extra joint support and an enhanced acoustic sound barrier. With the simple, quick installation and ease of cleaning, it is not hard to see why these are the perfect solution for any residential or commercial space.
Owner of the property Emily Jones advised; 'Before we moved into our new home, I knew exactly how I wanted the living room to look. Monochrome finishings but not cold - so the Herringbone RLVT in Natural Oak tied everything together and made the living room look modern, but still cosy and warm. There is variation and movement in the colourways, so it was easy to match furniture, paint and finishing touches. It looks and feels like true wood with a great texture and realistic grain. Our fitter was extremely complimentary of the product, citing how easy it was to lay, despite an oddly sized hallway to navigate, and how stunning it looked once complete – and I totally agree.'
We couldn't agree more, a beautiful family home!