Transforming plastic for good
In our new 'making it' blog series we're inviting three commercial interiors representatives to reflect on the bold steps they've taken to 'Make it. Sustainable'. Here, William Chizhovsky, the founder and CEO of The Good Plastic Company, speaks to us about the ethos of his business, the common misconception of plastic and what it will take for the circular economy to be realised.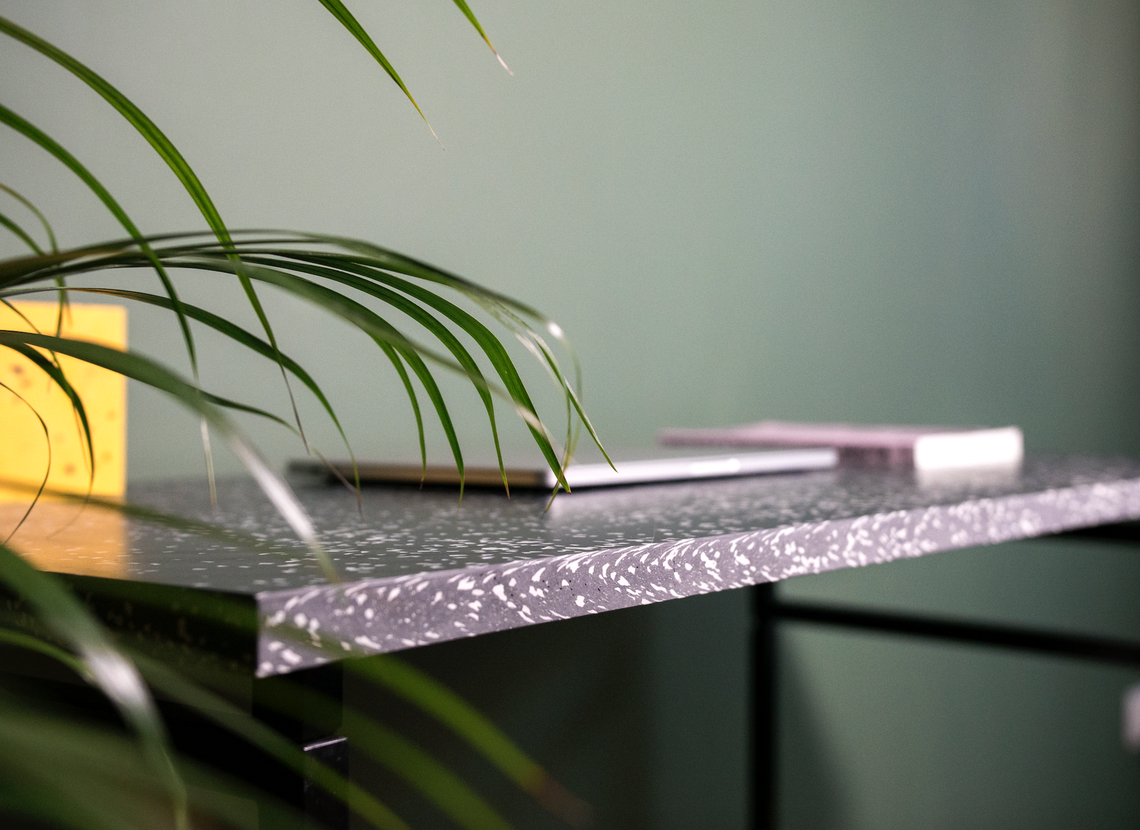 Below, our sustainability champion, Jason Bridges, asks William to delve into some of the themes explored in the clip.
---
Q. William, can you start by explaining how The Good Plastic Company came to be?
A. The issue of plastic waste and its disposal was an area I always wanted to get involved in and help to tackle. I recognised there was a gap between those companies collecting, sorting and recycling plastic and the manufacturers turning this so-called 'waste' into real end-products. In founding The Good Plastic Company, we've filled the gap between these sectors to close the chain - creating a revolutionary material that is as desirable as it is sustainable. Importantly, showcasing the beauty of treating plastic as it should be: as a valuable resource.
Of course, there have been challenges along the way. Firstly, developing the right equipment to process the large quantities of waste plastic required to deliver a substantial finished product. This upfront investment in R&D enables us to produce panels weighing up to 50kg for interior design and furniture production purposes. Making it feasible for specifiers and their clients to seek out surface materials that support the circular economy in a very practical yet stylish way.
Q. With plastic gaining a reputation as one of the world's worst pollutants, how is The Good Plastic Company winning hearts and minds? Is there such a thing as 'good plastic'?
A. Absolutely. We were well aware of the negative connotations of plastic when we named the company and knew there was an educational piece attached to our mission. Plastic has many benefits - it's durable, water-resistant and easy to work with. It's for these reasons that architects and designers are increasingly incorporating it into their work.
Sustainability is key, which is why all of our products are made from one type of plastic to ensure they are 100% recyclable. Our machinery is highly sophisticated and can process all kinds of plastics. For obvious reasons, we don't work with toxic plastics, like PVC, but everything else is on the table.
Practicality aside, recycled plastic can be beautiful! Not only does it contain a rich history, potentially starting life as a computer keyboard, phone or even a film spool, but it can be used to create amazing finished pieces. We recently launched our new brand Good Plastic Things that produces modern, functional and stylish end-products, from furniture to coat hangers and even elaborate art pieces. Through this venture, we're able to showcase what can be done with recycled plastic.
Headquartered in the United Kingdom, The Good Plastic Company was founded to help tackle the issue of the 400 million tonnes of plastic waste generated globally every year. Led by William Chizhovsky, the company transforms plastic waste into environmentally-friendly recycled plastic sheets used to create modern furniture pieces and interior or exterior design elements. William's 'think globally, act locally' strategy has led to The Good Plastic Company establishing a base in five European locations, with plans to expand into further territories in 2021.
You can watch Deezen's editor-in-chief, Marcus Fairs, and William Chizhovsky talk about the ethos of The Good Plastic Company and his ambitious plans for the future in our recent webinar.
Q. Based on everything you've learned, what do you think it will take for the circular economy to be realised on a global scale?
A. We're still a long way off. The circular economy's biggest obstacle is the demand for recycled and recyclable products and materials for every applicable use-case. It's simple: A larger market drives down production costs and, in turn, the product's price, making it accessible to all, rather than a privileged few. As with most major movements, it falls on the shoulders of large companies that have significant resources to develop this market and drive it forward. With their buy-in, I believe the circular economy can become our default setting.
Q. With that in mind, what are your thoughts on greenwashing? Where's the line between greenwashing and real circularity?
A. Greenwashing in any form is damaging and will ultimately set us back. It's important to remember that recycled doesn't mean recyclable. Businesses buy into the concept, believing that it's a sustainable option, but what difference does investing in something that can be recycled in the future really make? Who will eventually recycle it, and how? It's only through investing in recycled products that can also be recycled at the end of their life that businesses can begin an authentic journey to sustainability.
Interested to learn more? Watch the Dezeen webinar here.