New Verso and Galloway collections offer colour and cutting-edge design
Whether you're looking to add a bold splash of colour to your next project, or a classic yet bang-on-trend parquet effect, our new Verso and Galloway collections are just the ticket.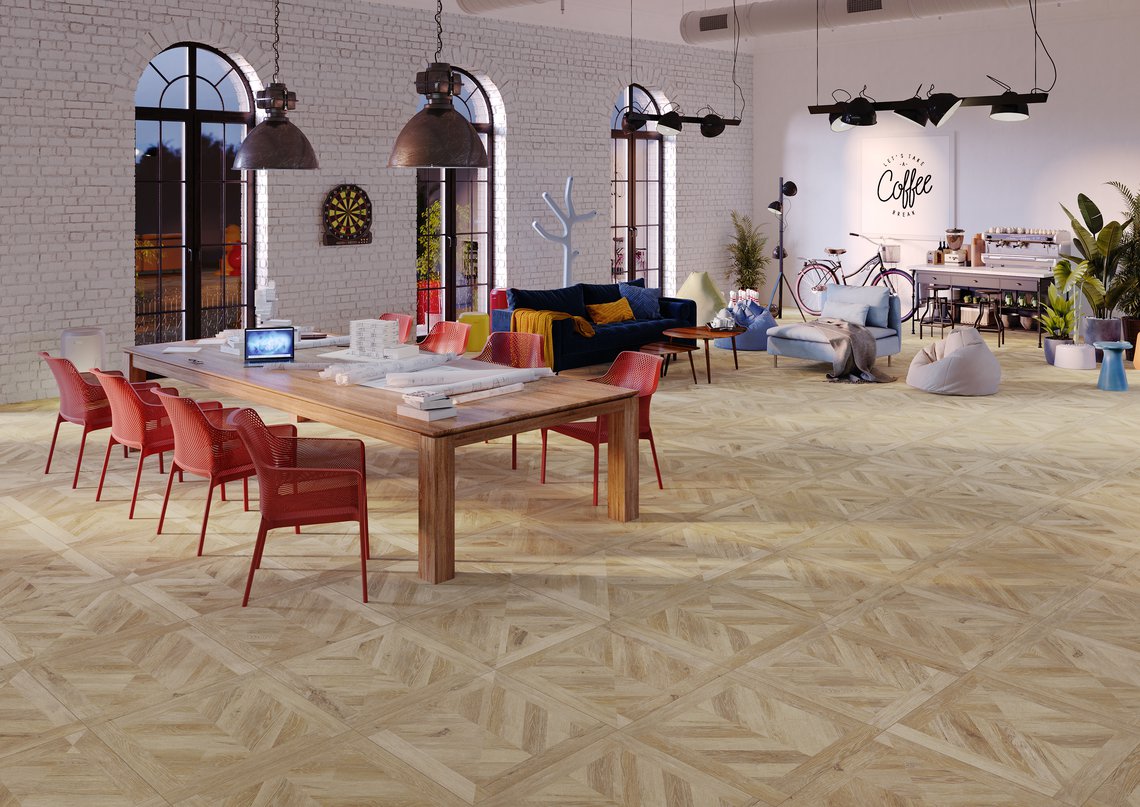 Want to achieve a parquet effect? Go for Galloway
Perhaps the most popular flooring trend of the year, parquet is an oldie (said to have originated in the 16th century), but a goldie. Echoing our need for a simpler, more down-to-earth environment, parquet flooring adds an earthy 'Cottagecore' finish, using neutral shades and natural textures.
So, for those looking to achieve the effect through tiling, our Galloway range of glazed porcelain wall and floor tiles, part of our Absolute collection, is the ideal solution.
Available in three colourways, you can recreate the warmth of natural wood in your home or office - from the more subtle light Birch to a deep Walnut for a more dramatic scheme.
Select from slim format planks or four framed designs including Maise, Basketweave, Cross and Chevron to experiment with shape and create any desired formation. Both Maise and Basketweave explore overlay to create dynamic configurations, while Cross and Chevron adopt a diagonal pattern. Co-ordinating skirtings are also available.
Each style seamlessly replicates the intricate detailing of the wood from which it's inspired, offering a highly commercial, contemporary and cost-effective product.
Introducing Verso: Bold in design and perfectly practical
Verso – part of our Absolute collection - comprises a range of small-format porcelain wall and floor tiles, offered in a show-stopping palette of 12 colours that reflect this year's key colour trends. Opt for a single tone throughout, or mix and match complementary colours to inject personality into your commercial or domestic project.
From Burnt Orange to Rose, the striking shades include minimalist, sophisticated pastels and nature-inspired neutrals. Tipping a hat to the cautious opulence of the decade's major design themes, Verso is also available in more maximalist colours such as Maroon and Black.
Underpinning the collection's style with equal substance, Verso achieves a PTV 36+ slip resistance rating across all colourways in size 370mm x 95mm.