Johnson Tiles 'Adores' at New Designers 2017 (Part Two)
Our Design Team re-visited the Business Design Centre in London's Islington, to check out what Part Two of New Designers had to offer by way of innovation.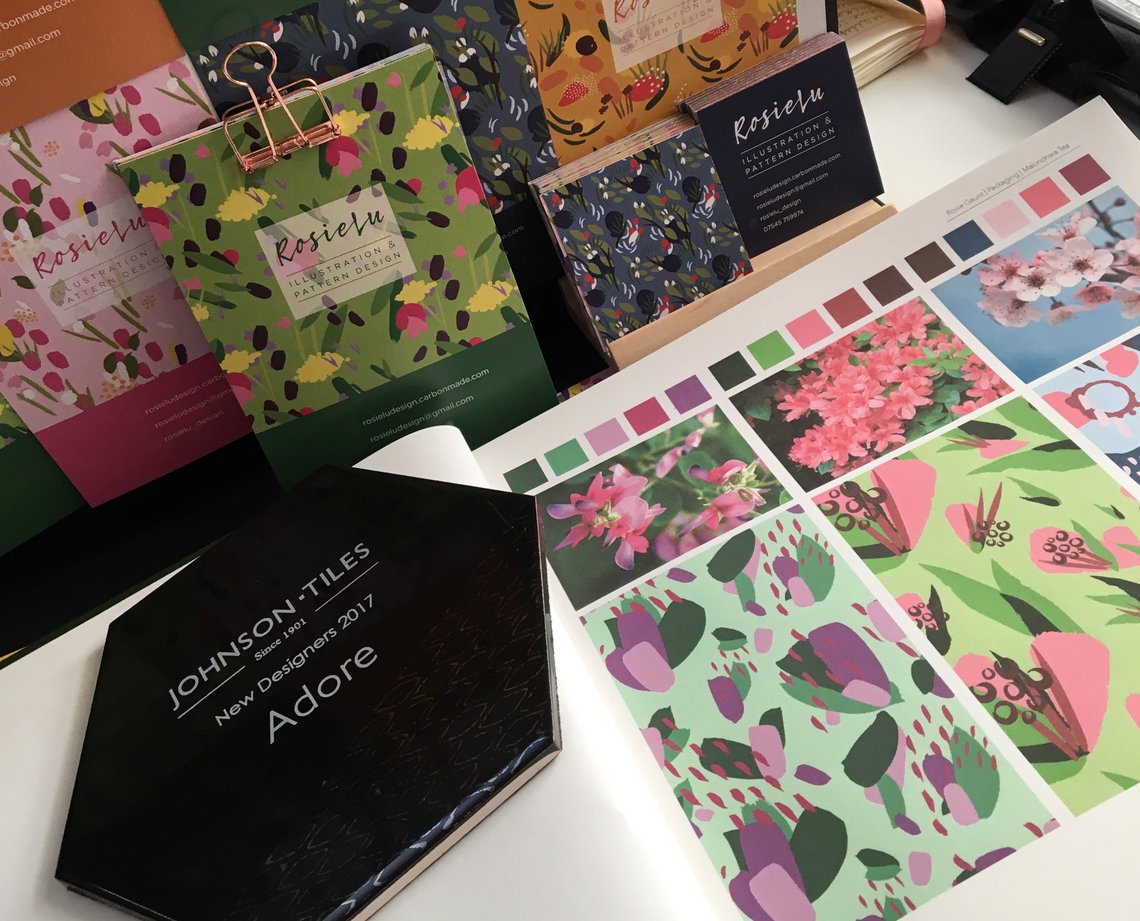 Rosie Gaunt, School of Art and Design at NTU
Rosie's work was inspired by Japanese craft, and a desire to preserve nature. Her work was a mixture of surface pattern and graphics, and her finished product was a package that included Japanese eco crafts, with sixteen different designs in total for each season.
A celebration of nature underpinned the key themes, alongside the joining together of Japanese craft and British natural history. Her prints and colour palette caught the Design Team's attention, and the designer's use of Pantone's Colour of the Year, Greenery, tied in perfectly with current commercial trends.
Discover more: www.rosieludesign.carbonmade.com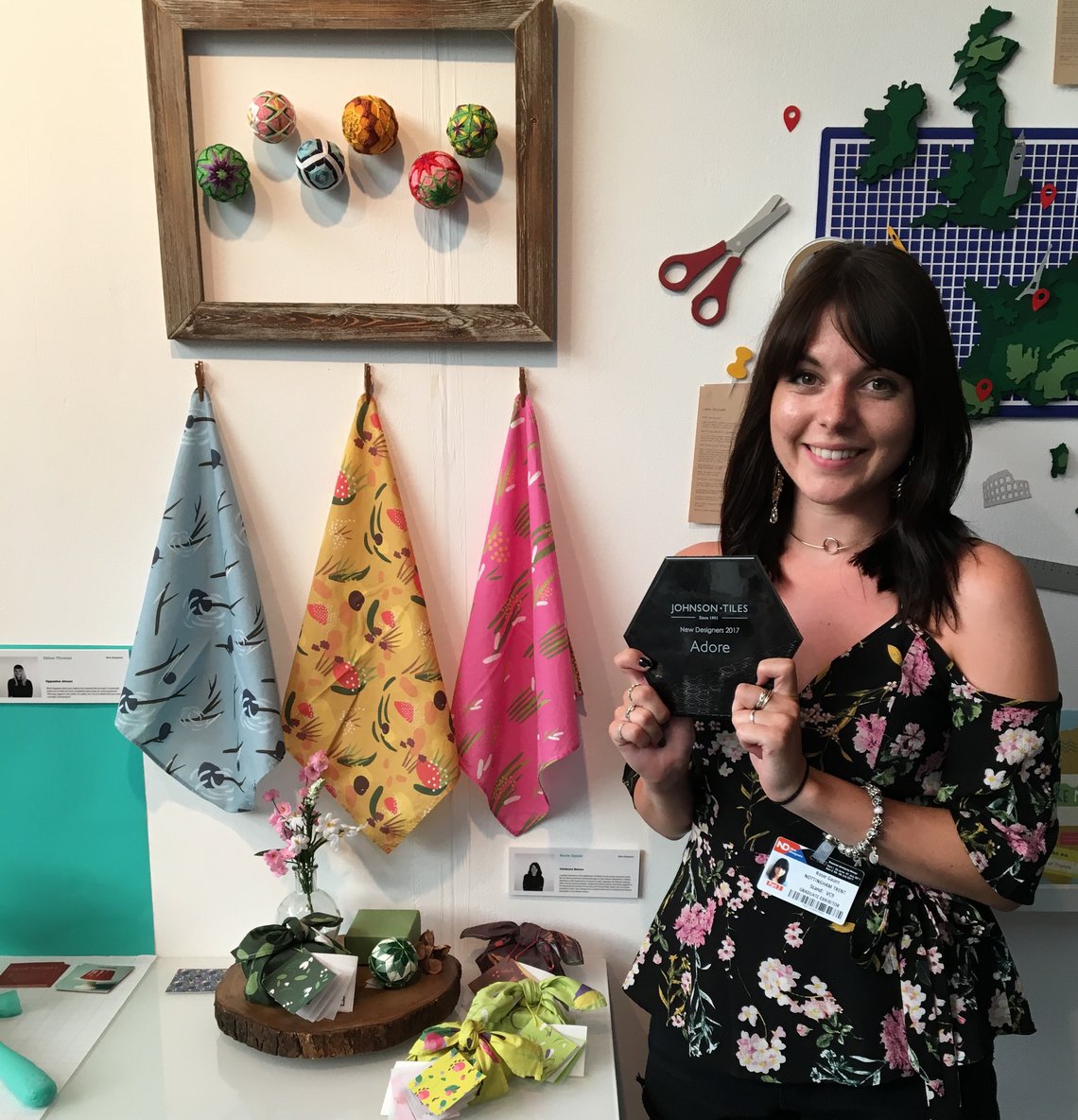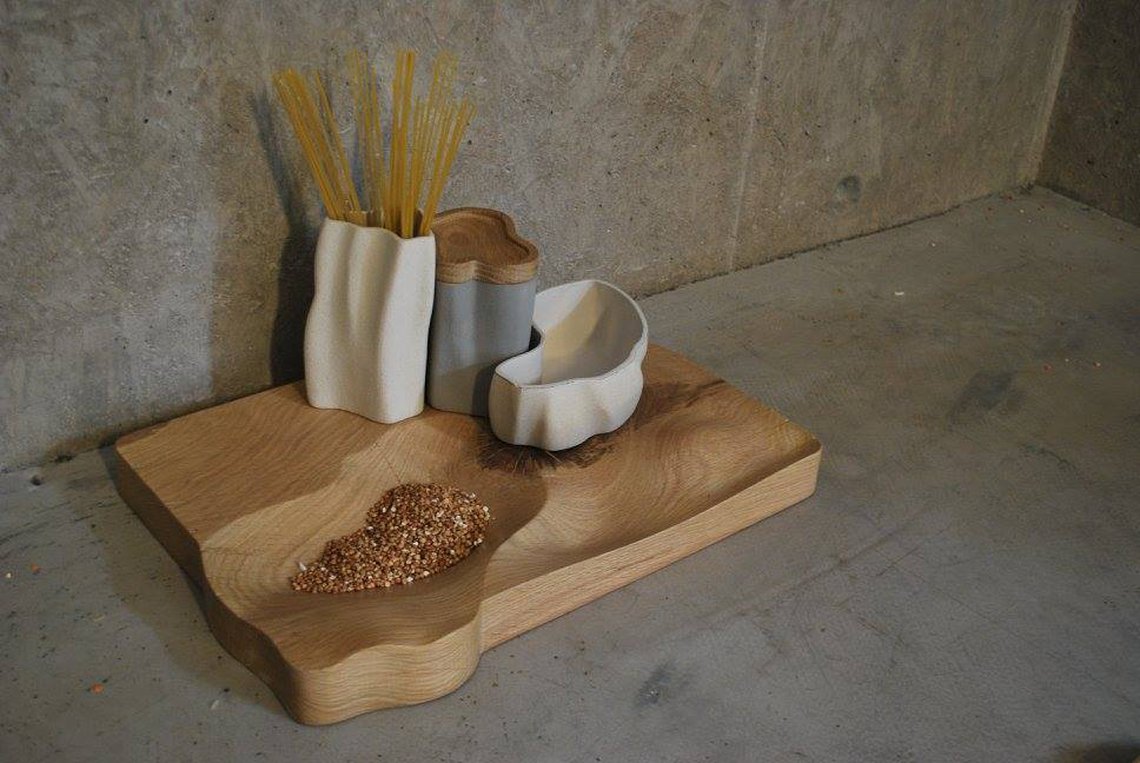 Siriol Alaw Hughes, Manchester University 
A three-dimensional designer, Siriol's project Undulation comprised a ceramic, oak and wood tableware collection inspired by aerial photography of Snowdonia's mountains. The different heights of the rock formations were mirrored in her shaping and moulding, and the textures expressed the rough and harsh qualities of the landscape. The work caught the eye of our Design Team for its pure quality and naturally inspired colouration. 
Discover more: www.instagram.com/siriol_designs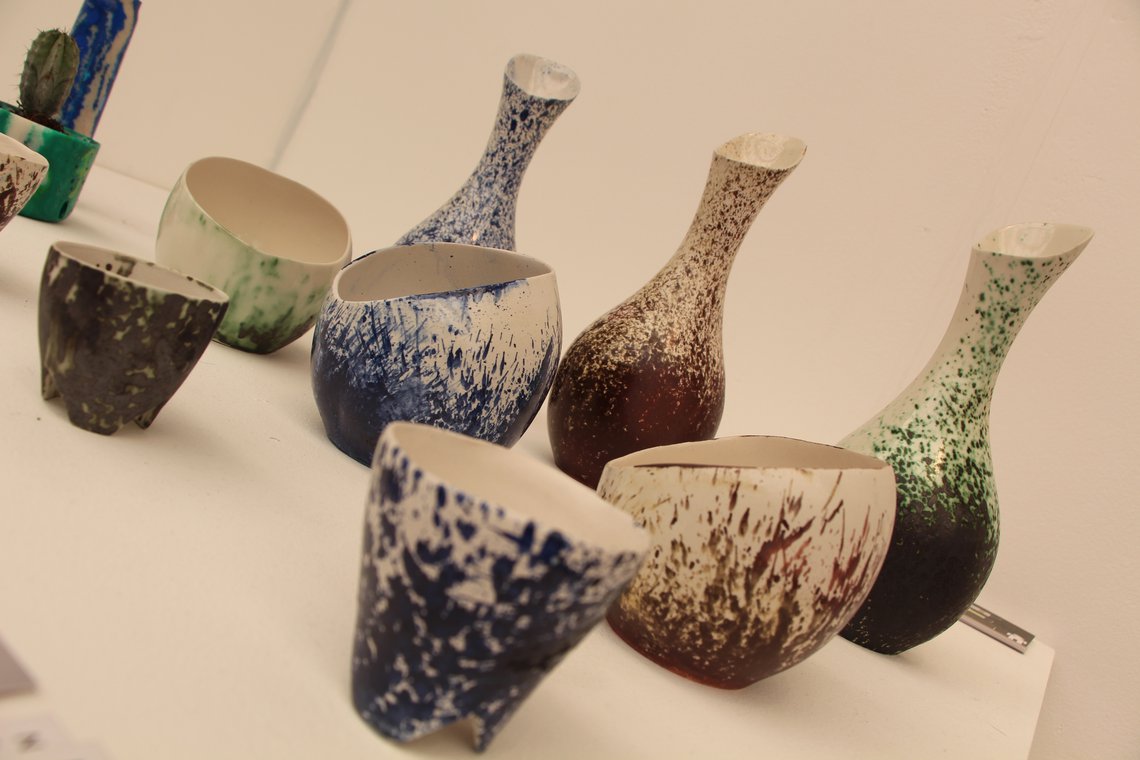 Nav Bains, Nottingham Trent University
Nav Bains is a furniture and product designer from Nottingham Trent University. Her work is inspired by the experimentation of earthenware, with which she has performed various testing and experimentation.
A sense of freedom was a key-inspiring factor to her work, and she created vases, pot puree dishes and candleholders, with all formed shapes taken from the main vase element.
Inspired by current glazing styles 'splashed and splattered', she explores these effects through bold, dark and earthy tones, in keeping with the upcoming trends for A/W 17.
Discover more: www.instagram.com/nicky.bainss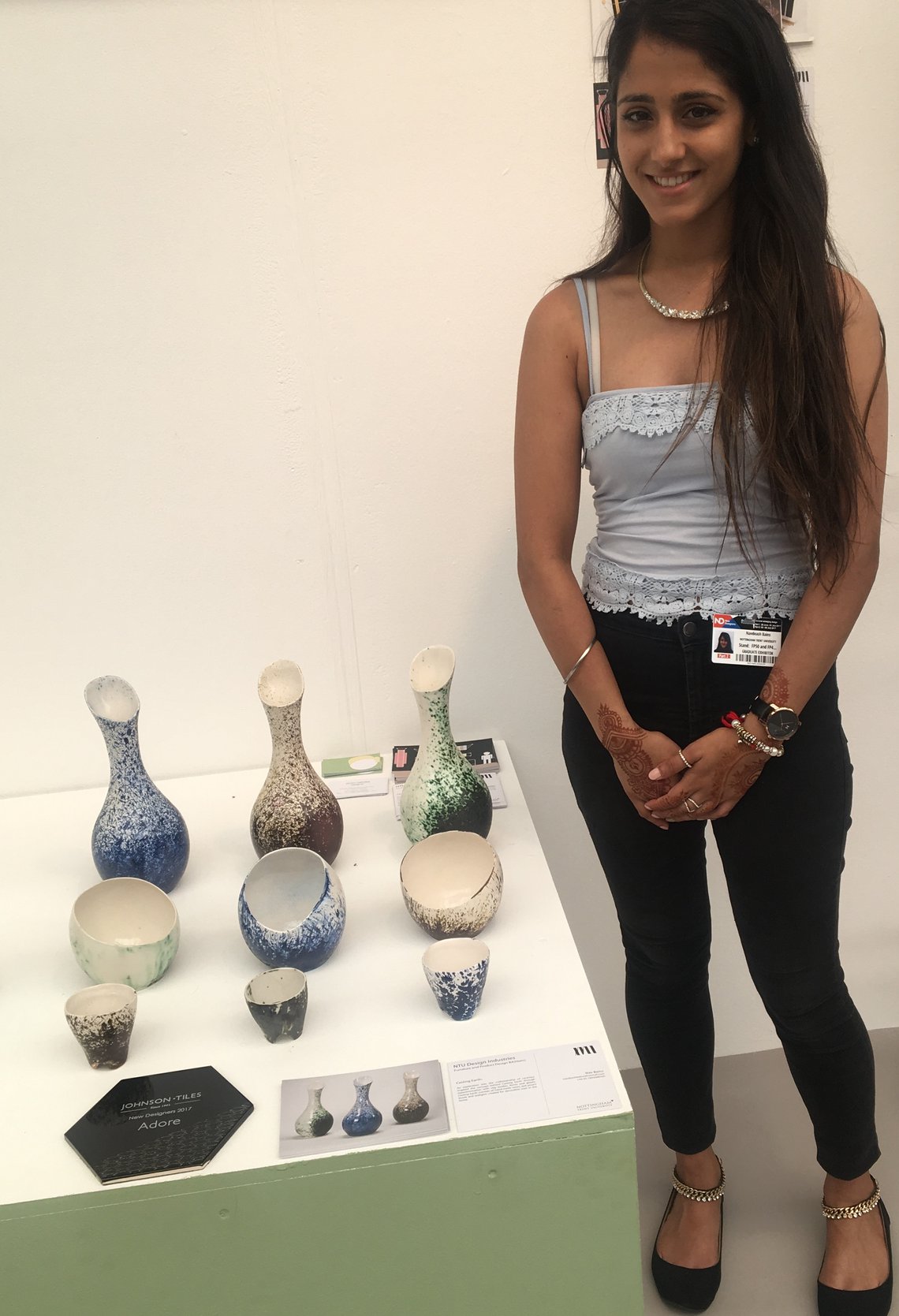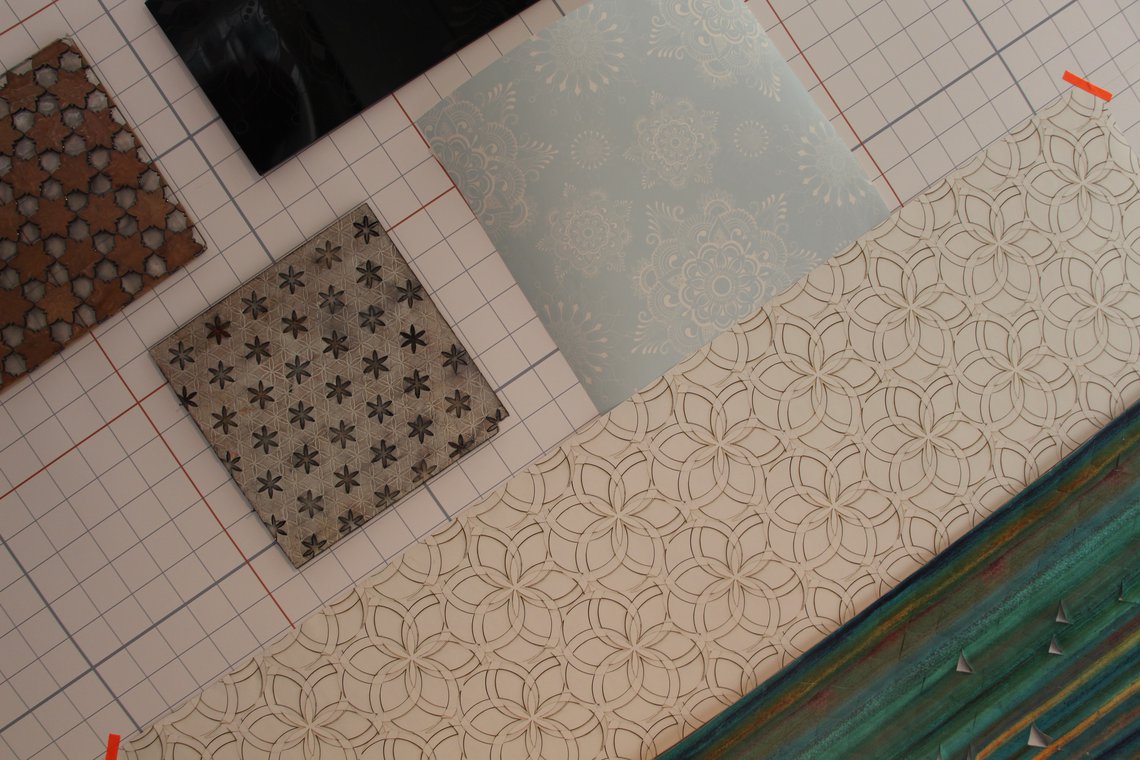 Emma Molley, Southampton Solent University
Emma's work is a combination of bespoke handcrafted interior pieces. With a strong Indian influence, taken from her previous travels to the country, she translates this into colourful patterns.
With her core inspiration coming from Islamic and Mandala styles, Emma worked with varying materials such as wood, concrete, resin and paper. Craftsmanship techniques such as carving and moulding were used, as well as digital processes such as laser cutting and digital printing.
Her work is about creating specialised pieces for the home, ranging from splashbacks and wallpapers, to murals and tiles with interactive qualities and a personal finish.
Discover more: www.instagram.com/magpiemolley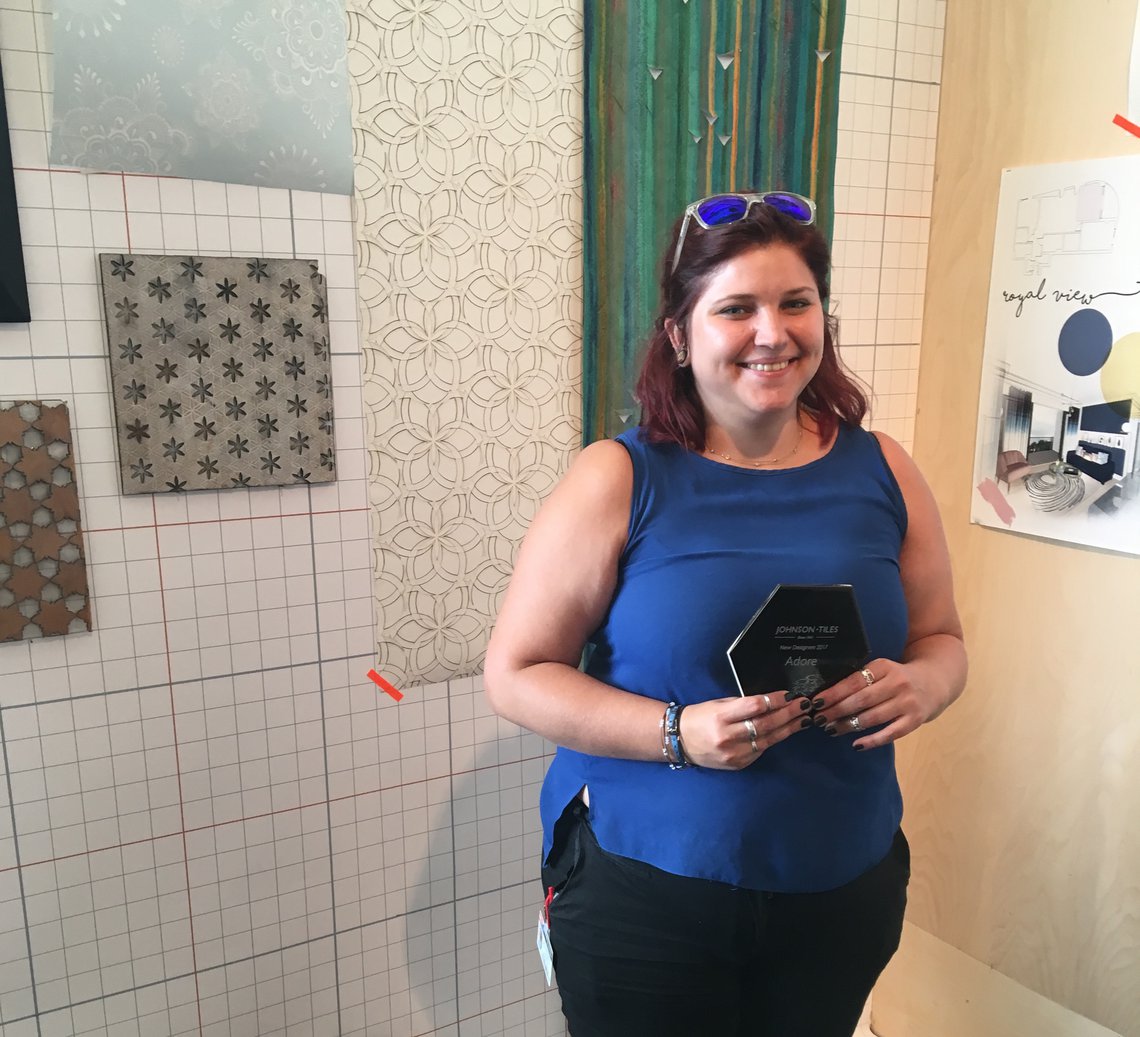 In addition to awarding Darwin Simmonds the Johnson Tiles Associate Prize, our Design Team met with a wealth of graduate designers and makers to help recognise their work through a Johnson Tiles 'Adores' badge.
Five talented candidates were highlighted for their skill, attention to detail and ability to present a commercially viable product. We'd like to wish a huge congratulations to all those chosen.