Introducing emerging talent at New Designers Part One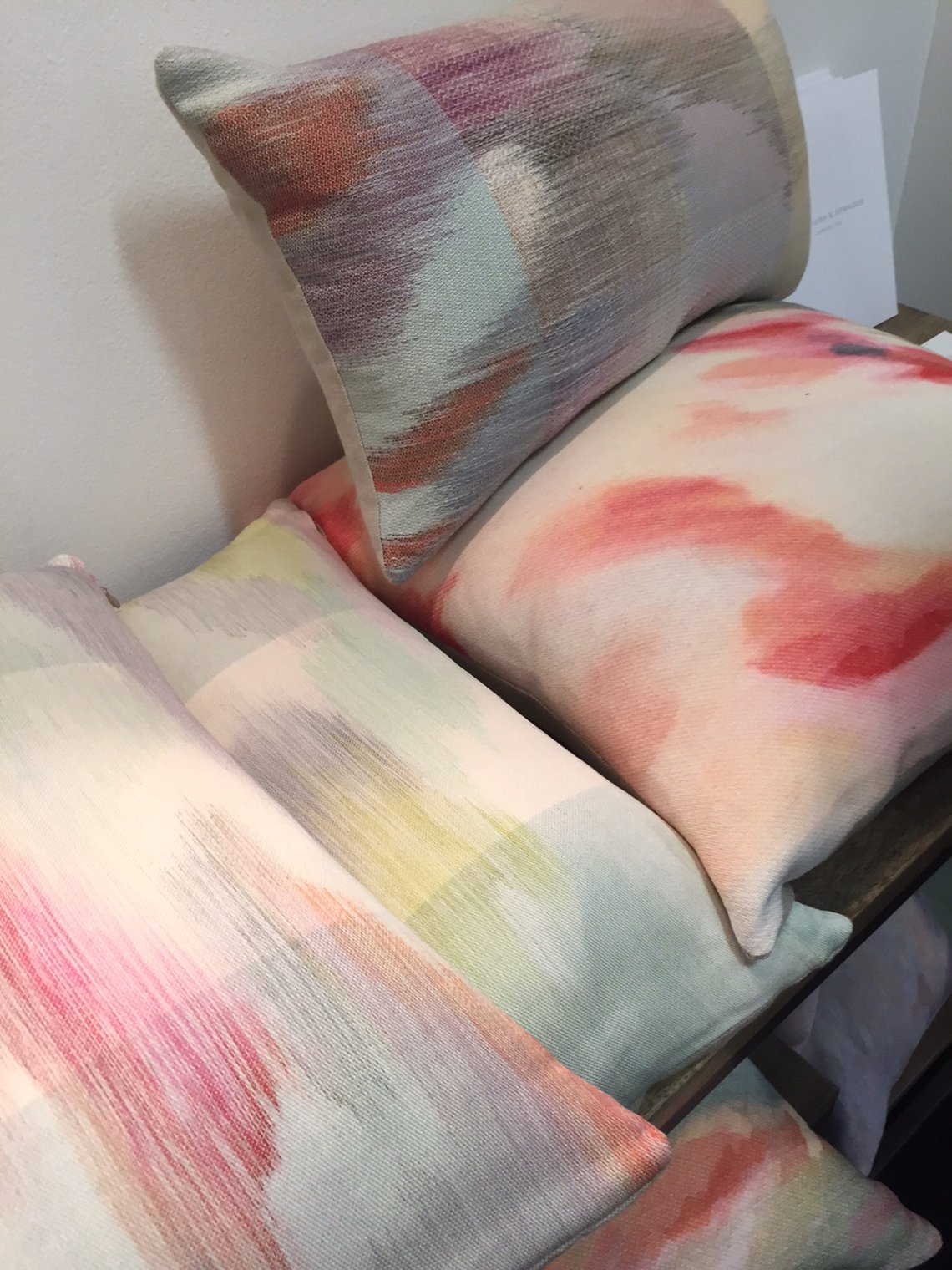 Melhuish and Sprague
Laura, Creative Director of Melhuish and Sprague, and specialist woven textile designer, exhibits her collection of signature hand-painted and woven textiles. After receiving an overwhelming demand for her fabrics, she set up the company following her graduation from Loughborough University.
Selected for the prestigious New Designers Harlequin Award at last year's show, her latest work is just as impressive. Using a combination of strong lines and strokes, the designer paints vibrant and natural hues across the fabrics.
Her designs merge traditional techniques with modern ones, offering a colour palette that is fresh and contemporary. The collection sits perfectly with the trend for sensory shades, again conjuring feelings of comfort and homely experiences.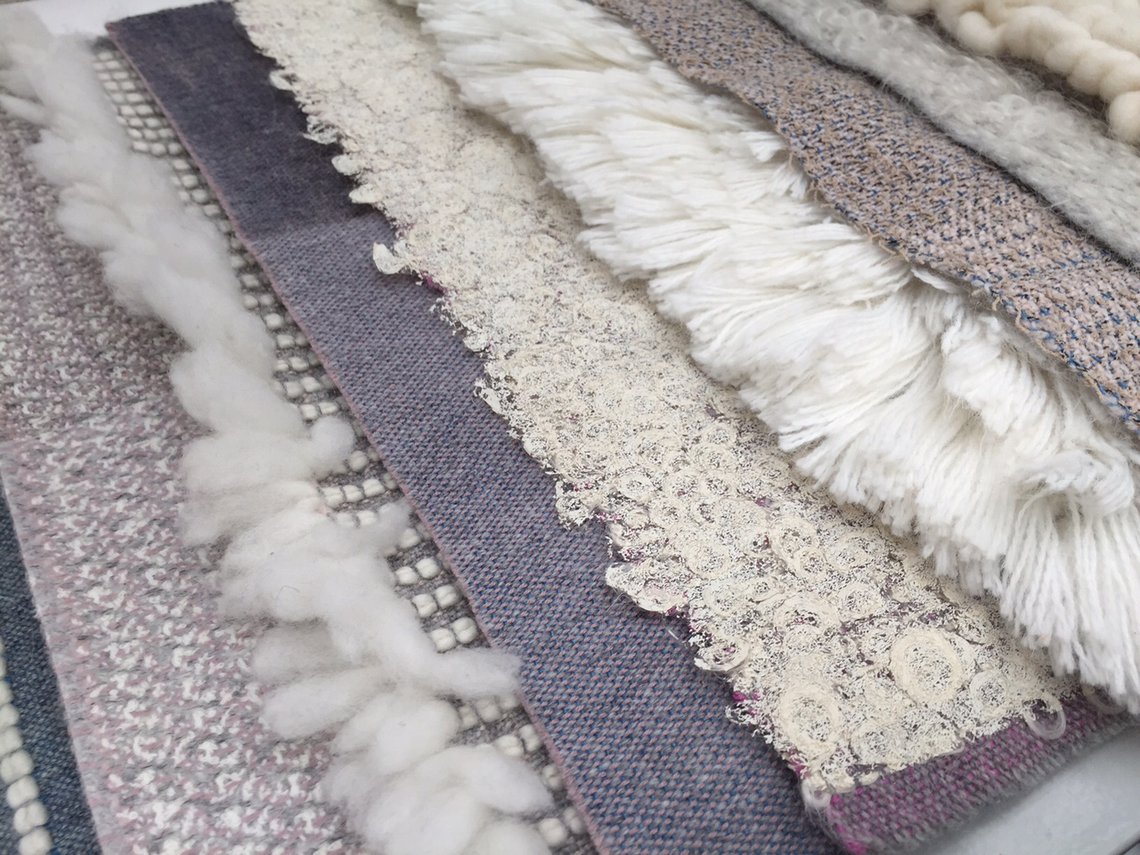 Emily McIlwaine
Also delving into the trend for texture, textile graduate Emily McIlwaine, from Glasgow School of Art, creates woven pieces that draw upon tactility. Her textiles aim to explore sensory experiences, like that of one of the major trends seen at Hemitexil Germany 2015, offering a source of comfort and reassurance.
The subtle muted pastel tones and dusted-down greys evoke a sense of home comforts, inspiring softness and sophistication.
Stay tuned to the blog for more trend updates from the Design Team.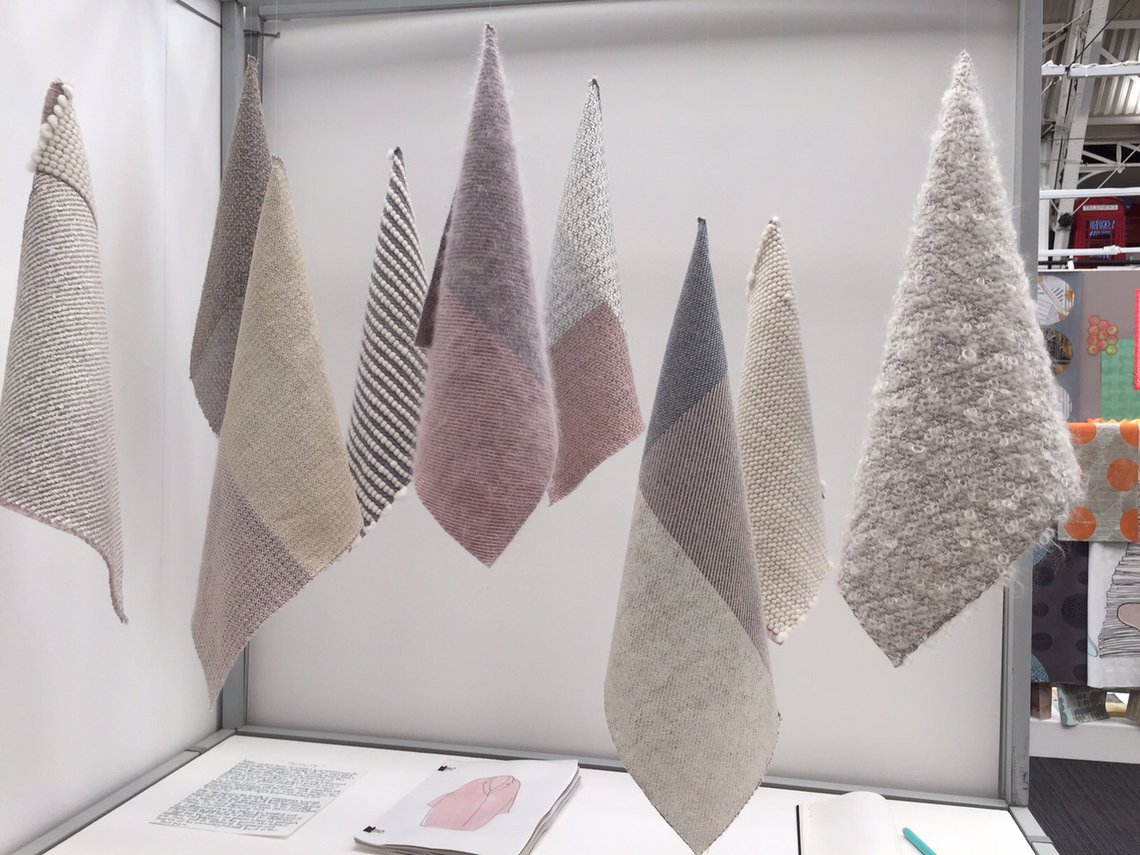 Jessica Rowley
Gathering inspiration from 1950's dresses, Staffordshire University graduate and surface pattern designer, Jessica Rowley, pays particular attention to a neutral colour palette. Blending a base of subtle chalky greys and white, she added bold dusky plum and aubergine shades, with a sensory blush pink. The use of metallic highlights, influences and textural details provide an extra finish to the designs, which is a key aspect of the metallic trend. 
Layering the designs with simplistic geometric mark making and abstract pattern, it ties the work together as a combined collection, but also as individual, stand-alone pieces. Luxurious strokes and foil-over-print details demonstrate the current trend for combining textures.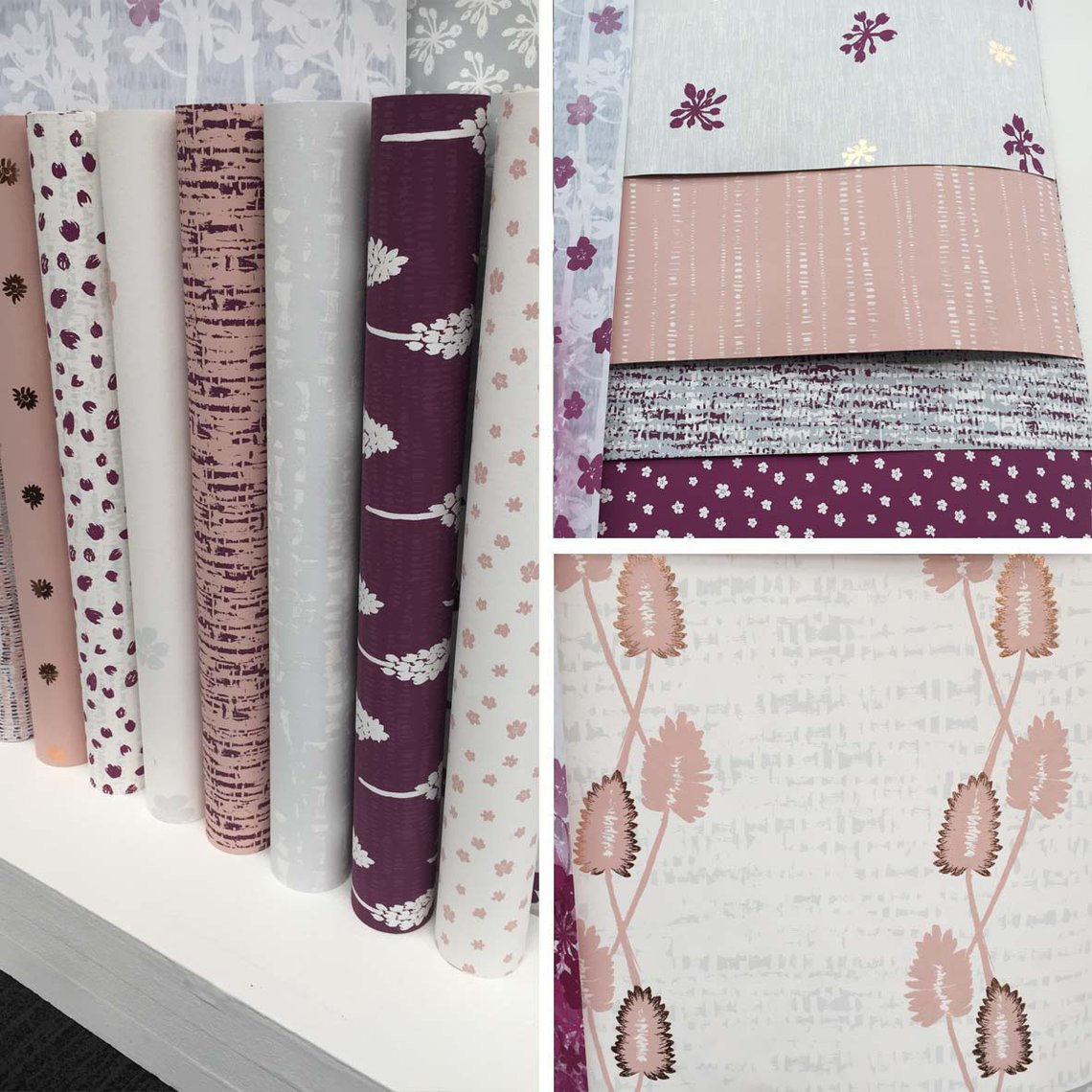 Danielle Folkes 
With her experimental clash of colours, multi-media textile design graduate of Loughborough University, Danielle Folkes, uses copper shades to create eye-catching designs. The blue-on copper pieces are inspired by the aerial view that can be seen when skydiving. 
Playing with a variety of surface treatments, manipulation techniques and mark making, the designer uses different substances to react with the copper in order to create the blue colour she favours. The unusual embellishment, surface effect and embroidery details take the copper trend to the next level.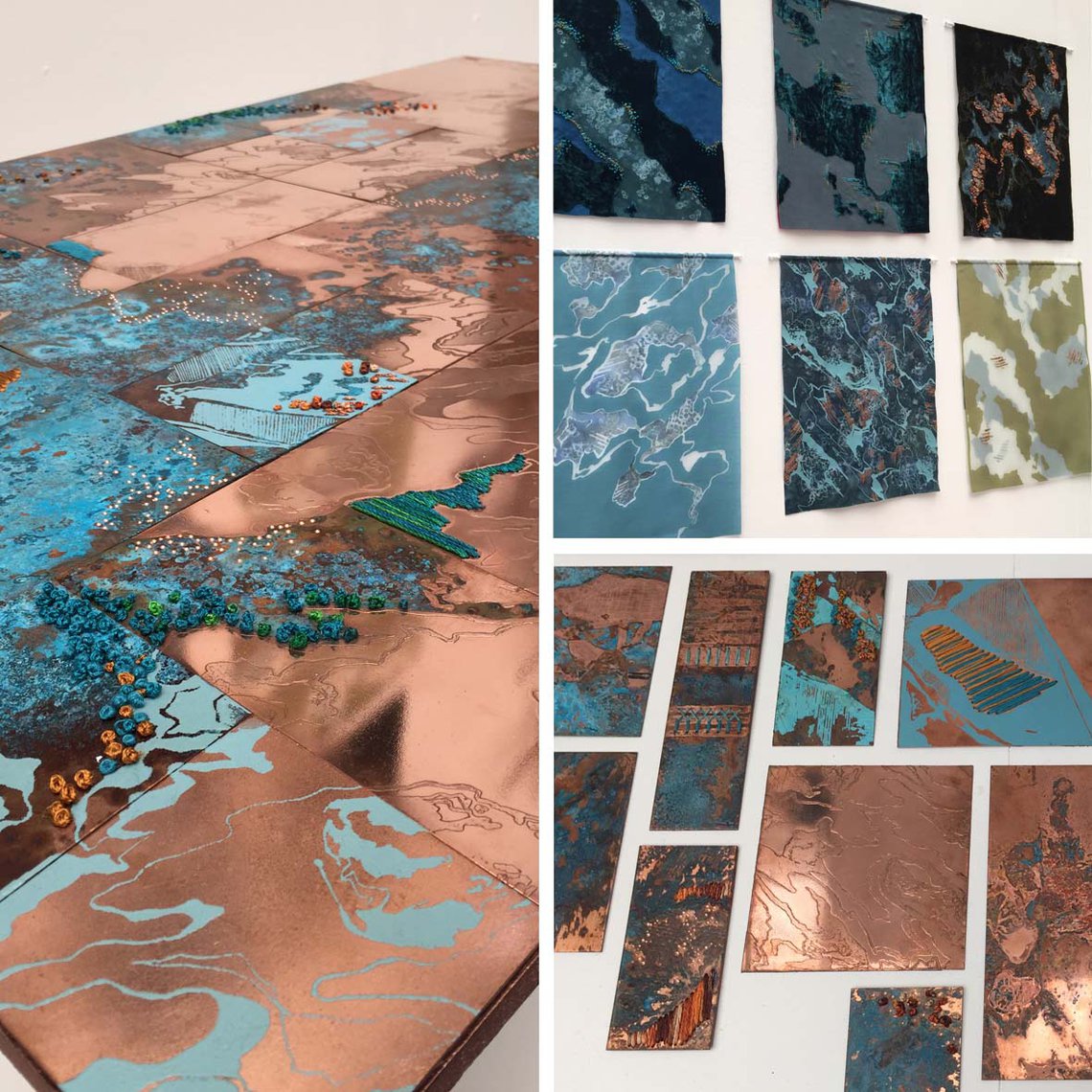 Jennifer McCarthy
Drawing inspiration from royal palaces, interior design graduate of Southampton Solent University, Jennifer McCarthy, utilises traditional architectural elements and interiors in her work. Concentrating on a royal colour palette, the work links back to the current trends of blue shades complemented by neutrals. And the metallic highlights of gold, copper and bronze add extra interest. 
Her collection of four designs are linked through colour and their traditional style, with McCarthy drawing upon motifs and patterns inspired by her travels. The simple use of block colour adds elegance to the designs, whilst the layering of patterns and crossing over of elements adds depth to the pieces. The work secures a traditional look with an added contemporary feel.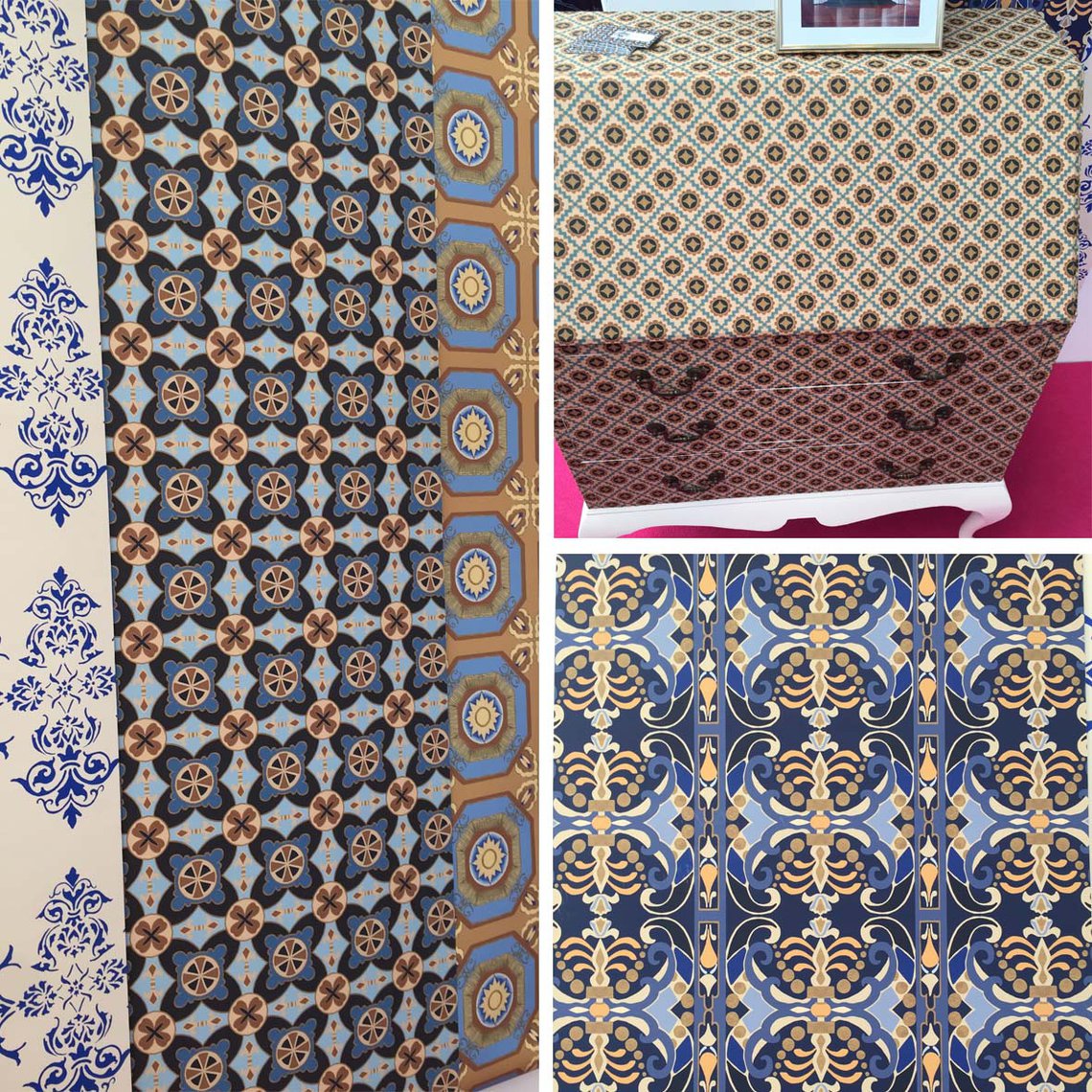 Now in its thirtieth year of championing upcoming creative talent, New Designers showcases a roundup of the best emerging designers from the UK's graduate shows. At this year's event – Part One (24-27 June), a selection of work caught our eye in particular, making strong use of colour and pattern, in the latest styles and trends…